Texas P&C Insurance License Class And Exam Prep Materials
Best-Selling Training Courses:
Instructor-Led: Webinars
Online Training Courses
Property And Casualty Insurance Courses In Texas
About The Texas Property And Casualty Insurance License
To sell property or casualty insurance in Texas, you must first obtain a property and casualty insurance license. Not sure how to go about doing that? You've come to the right place! ABTrainingCenter.com has all the information and tips you need to prepare for your Texas property and casualty insurance licensing exam.
What A Texas Property And Casualty Insurance License Can Do For You
Texas has more than 30 cities with populations of at least 100,000, including Houston, Dallas, San Antonio, Austin, Fort Worth, Arlington, Plano, El Paso, Corpus Christi, Lubbock, Garland, Irving, Laredo, Amarillo, Grand Prairie, Brownsville, McKinney, and lots more. As such, there are many communities for you to be a successful Texas P&C insurance agent.
Bottom line, many Texans own property and want to protect it for themselves and their families. The best way to do that is through adequate property and casualty insurance. By earning your Texas property and casualty insurance license, your business can benefit from residents' desire to protect their assets.
Some specifics: In 2017 alone, there were nearly 670,000 property insurance claims in Texas just from Hurricane Harvey. The Texas Department of Insurance said that number includes about 354,000 residential property claims - including homeowners, residential and mobile homeowners - and about 203,000 automobile claims. Around 37,000 commercial property claims, 66,000 flood claims and 12,000 "other" insurance claims also have been filed as a result of damage from Harvey.
About Our Texas P&C Pre-Licensing Courses And Exam Prep Materials
We offer Texas property and casualty license training courses that fulfill applicable prelicense education requirements. Courses are available in seminar, online, and self-study formats. Our Tennessee P&C exam prep materials are delivered in an easy-to-understand manner that provides important insights and valuable exam tips and strategies covering Texas' rules and regulations for Property and Casualty insurance licensing. You receive:
Both print and online tools that include a comprehensive textbook utilizing short, focused paragraphs with numerous graphics and exercises to help students learn faster and retain critical information
A searchable FAQs database
Exam Tips, Study Calendar, and hundreds of practice exam questions
State Law Supplement that provides the most current state laws and regulations
Videos that can be viewed anytime, anywhere, and as frequently as you like
Instructor email access for help with any tough areas
Use our Texas property and casualty exam prep materials to test yourself with practice questions and solutions, pinpoint problem areas by building customized exams based on difficulty, length, and topic of your choice, and create online personal notes and bookmarks for future reference.
Recommended Texas P&C Insurance Licensing Courses And Exam Prep Materials
We want you to be fully prepared for your property and casualty insurance license exam. That's why we have a range of highly effective P&C license courses and materials designed by insurance experts.
To find Texas property and casualty insurance licensing courses, simply click on any of the recommended courses below or select "Property And Casualty" and your state from the "Licensing" section of the search box below. Good luck passing your Texas P&C insurance licensing exam and becoming a Texas insurance agent!
Best-Selling Training Courses:
Instructor-Led: Webinars
Online Training Courses
Find Seminars, Webinars, And Online Training In Your Area
How To Become A Texas Property And Casualty Insurance Agent
Pre-License Requirements For Becoming A Texas P&C Agent
A Texas Insurance License is regulated at the state level and, as such, state government establishes its own insurance licensing requirements and examination procedures. Below are general prelicensing requirements in the state of Texas.
General Requirements
An individual applying for a Texas insurance license must be at least 18 years of age

Applicants are not required to be sponsored to pursue their license

Applicants must submit fingerprints as part of the license application

Texas has no prelicensing education requirement unless a 90-day temporary license is desired. To obtain a 90-day temporary license, candidates must complete 40 hours of prelicensing education

Candidates must apply for licensure within 12 months from receiving a passing grade on the examination
Texas Property And Casualty Exam Requirements
After you have studied and are fully prepared, it is time to schedule your exam. PearsonVUE is the test provider for Texas and will schedule exams on the phone at 888-754-7667 or through their website.
On exam day, bring two forms of government-issued, valid I.D., one of which is a photo I.D. like a driver's license or passport. The combined Texas property and casualty insurance exam is two and a half hours, with 150 questions on property and casualty policies and related issues. Score 70 percent or more to pass.
Before you can receive your license, you need a fingerprint background check. Electronic fingerprinting is administered by IdentoGO by MorphoTrustUSA. Visit the Texas Department of Insurance website for more information about getting fingerprinted. Once you pass your exam and are fingerprinted, you can go to Sircon to apply for your license. You have 12 months to apply.
Contact Info: Texas Property And Casualty License Requirements
To help with your examination scheduling, we have provided below information on Texas licensing requirements, its insurance department, and examination scheduling facilities.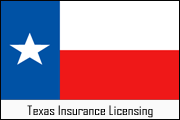 Texas Department of Insurance - Agents Licensing DivisionAddress:
MC107-1A | P.O. Box 149104 | Austin, TX 78714-9104
Phone:
512.322.3503
Fax:
512.490.1029
Email:
license@tdi.state.tx.us
Website:
https://www.tdi.texas.gov/agent/general-property-apply.html
Examination SchedulingProvider:
Pearson Vue testing centers
Phone:
888-754-7667
Website:
http://www.pearsonvue.com/tx/insurance/
Good luck passing your Texas P&C insurance licensing exam!
Other Insurance Licensing Courses For Texas:
Disclaimer
This information is based on state laws and regulations, and is subject to change. ABTrainingCenter makes every effort to make sure this information is current and accurate, however, ABTrainingCenter is not engaged in rendering legal or professional advice and shall not be held responsible for inaccuracies contained herein.