Michigan Property & Casualty Insurance License & Exam Prep Course
Best-Selling Training Courses:
Instructor-Led: Webinars
Online Training Courses
Property And Casualty Insurance Courses In Michigan
About The Michigan Property And Casualty Insurance License
Any sale of insurance in Michigan requires the appropriate Michigan insurance license. For those wishing to sell property and casualty insurance in Michigan, you will need to pass the appropriate licensing exam as well as fulfill prelicensing requirements. ABTrainingCenter.com can tell you everything you need to know to earn your property and casualty insurance license, including how to meet the prelicensing requirements and how to pass the licensing exam.
What A Michigan Property And Casualty Insurance License Can Do For You
A Michigan property and casualty insurance license opens up an entire new world of insurance policy writing opportunities for you as an insurance broker. If you have just been writing health and life insurance policies in cities like Detroit, Grand Rapids, Lansing, Ann Arbor, Flint, Dearborn, Livonia, Troy, and Kalamazoo, you are giving away half your potential business. With a property and casualty insurance license, you can become a full-service insurance provider for your Michigan community.
About Our Michigan Property And Casualty Licensing Courses, Exam Prep Materials, And Sample Exam Questions
The Agent Broker Training Center has courses that can fulfill your prelicensing requirement and fully prepare you to pass the Michigan property and casualty licensing exam. We offer self-study materials, in-person classes, and online courses to match your learning style. All come with home study materials that will allow you to put in as many hours as you need to be confident you will pass. You receive:
Both print and online tools that include a comprehensive textbook utilizing short, focused paragraphs with numerous graphics and exercises to help students learn faster and retain critical information
State Law Supplement that provides the most current state laws and regulations
A searchable FAQs database
Exam Tips, Study Calendar, and hundreds of practice exam questions
Videos that can be viewed anytime, anywhere, and as frequently as you like
Instructor email access for help with any tough areas
Additionally, you can use our Michigan property and casualty exam prep materials to test yourself with practice questions and solutions, pinpoint problem areas by building customized exams based on difficulty, length, and topic of your choice, and create online personal notes and bookmarks for future reference. Choose your preferred class by clicking one of the links below.
Recommended Michigan P&C Insurance Licensing Courses And Exam Prep Materials
To find Michigan property and casualty insurance licensing courses, exam prep materials, and sample exam questions, simply click on any of the recommended courses below or select "Property & Casualty" and your state from the "Licensing" section of the search box below. Good luck passing your Michigan P&C insurance licensing exam and becoming a Michigan insurance agent!
Best-Selling Training Courses:
Instructor-Led: Webinars
Online Training Courses
Find Seminars, Webinars, And Online Training In Your Area
Michigan Property And Casualty Insurance License Requirements
Property And Casualty Prelicense Michigan Requirements For Resident Insurance Agents
Michigan is one of those states that has specific prelicensing requirements to meet before you can take the property and casualty licensing exam. In this case, you will need 20 hours of prelicensing for each line you plan to pursue, so for a complete property and casualty license, you will need to put in 40 hours of approved prelicensing study. You will also need to prove that you have completed the course by passing an approved certification exam with a 70 percent success score.
The Agent Broker Training Center can provide the prelicensing coursework and certification you need to sit for the exam (see below).
Michigan Property And Casualty Exam Requirements
When you have a certificate of prelicensing completion in hand, you can schedule your licensing exam with PSI Exams to arrange your testing time. On the day of testing, you must bring two forms of valid government-issued, signature I.D. The primary I.D. must also have a photograph.
Show up at your testing center 30 minutes early for verification. You will not be permitted to talk to other candidates or bring anything into the exam, including a watch, purse, backpack or anything in your pockets.
For either the single property producer line or casualty producer line, you will have two hours to complete a 100-question multiple-choice exam. The property producer line requires a 74 percent to pass, and the casualty producer line requires a 73 percent. The combined property & casualty producer exam is 150 multiple-choice questions. You have 2.5 hours to finish and will need at least a 73 percent to pass.
If you pass the exam, you will be notified immediately and can apply for your license with the National Insurance Producer Registry.
Contact Info For Michigan P&C Licensing
To help with your examination scheduling, we have provided below information on Michigan licensing requirements, its insurance department, and examination scheduling facilities.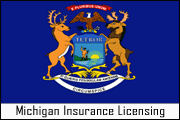 Michigan Department of Energy, Labor & Economic GrowthAddress:
PO Box 30220 | Lansing, MI 48909
Phone:
877.999.6442
Fax:
517.241.3953
Email:
ofir-licensing@michigan.gov
Website:
http://www.michigan.gov/ofir
Examination SchedulingProvider:
PSI Exams
Phone:
1.800.733.9267
Website:
http://candidate.psiexams.com/
Good luck passing your Michigan P&C insurance licensing exam!
Other Insurance Licensing Courses For Michigan:
Disclaimer
This information is based on state laws and regulations, and is subject to change. ABTrainingCenter makes every effort to make sure this information is current and accurate, however, ABTrainingCenter is not engaged in rendering legal or professional advice and shall not be held responsible for inaccuracies contained herein.