Earn Your Massachusetts Property & Casualty Insurance License
Best-Selling Training Courses:
Instructor-Led: Webinars
Online Training Courses
Property And Casualty Insurance Courses In Massachusetts
About The Massachusetts Property And Casualty Insurance License
Selling property and casualty insurance in Massachusetts requires thorough knowledge of Massachusetts insurance law as well as a property and casualty insurance license. If you are curious about Massachusetts prelicensing and licensing requirements, read on and learn how ABTrainingCenter.com can help.
What A Massachusetts Property And Casualty Insurance License Can Do For You
In 2017, Massachusetts insureds filed a total of 61,466 claims with their insurers. Traditional homeowners' insurance from cities like Boston, Worcester, Cambridge, Lowell, Quincy, Lynn, and others represents 85% of the total number of claims. Bottom line, these stats mean that there is a large opportunity for you to build a P&C insurance business in Massachusetts.
Whether you are a lone insurance provider or a broker that works as part of a larger insurance company, property and casualty insurance should be a key part of your business. Property and casualty, along with health and life, make up the bulk of insurance lines that the average individual is seeking, and you want to be prepared to meet their needs. The only way to be a complete insurance broker or agency is to offer property and casualty insurance. To do that in Massachusetts, though, you need a Massachusetts property and casualty insurance license.
About Our Massachusetts Property And Casualty Licensing Courses, Exam Prep Materials, And Sample Exam Questions
The Agent Broker Training Center has years of experience designing courses for property and casualty insurance licensing with the student in mind. You will receive comprehensive study materials, practice questions that look just like the ones you will see on the exam, and talented instructors to guide you through the material.
These materials provide valuable exam tips and strategies that cover the required rules and regulations specific to your state. Of note, you can use our practice exams to not only test yourself on key concepts, but to pinpoint problem areas by building customized exams based on difficulty, length, and topic of your choice. You also can create online personal notes and bookmarks for future reference. You typically receive:
Printed materials and online training tools
A comprehensive textbook that utilizes short, focused paragraphs with numerous graphics and exercises to help students learn faster and retain critical information
A searchable FAQs database
Exam Tips
Study Calendar
State Law Supplement that provides the most current state laws and regulations
Instructor Email Access
Hundreds of practice exam questions
Video that can be viewed anytime, anywhere, and as frequently as you like
Find the course below that best suits your needs. Then, click the link to sign up and start preparing for your Massachusetts property and casualty license exam.
Recommended Massachusetts P&C Insurance Licensing Courses And Exam Prep Materials
To find Massachusetts property and casualty insurance licensing courses, exam prep materials, and sample exam questions, simply click on any of the recommended courses below or select "Property & Casualty" and your state from the "Licensing" section of the search box below. Good luck passing your Massachusetts P&C insurance licensing exam and becoming a Massachusetts insurance agent!
Best-Selling Training Courses:
Instructor-Led: Webinars
Online Training Courses
Top FAQs
What Are The Requirements To Get An Insurance License in Massachusetts?
You must take your state-required pre-licensing course and pass your state's licensing exam. There also are base requirements such as a minimum age, passing a background check, etc.
What Is An Independent Agent?

If you work for a firm like AllState, you sell their produsts only. As an Independent Agent, you can sell products from several companies.
How Is An Independent Agent Compensated?

Independent Insurance Agents typically earn commissions for selling various insurance products.
What Does My State's Pre-Licensing Course Cover?

P&C licensing exams typically cover terms and definitions, policy types, and rules and regulations.
What Doesn't The Pre-Licensing Course Cover?

While the pre-licensing course covers terms, definitions, and insurance basics, the course does not teach you how to market or sell insurance.
What Type Of Courses Do You Offer For Earning My Massachusetts Insurance License?

We offer online and Instructor-led courses for taking your state's required pre-licensing course and earning your Massachusetts insurance license.
What Is The Best Way To Study For - And Pass - My Massachusetts P&C Licensing Exam

How Many Hours Of Pre-Licensing Study Are Required To Complete The Massachusetts Pre-Licensing Course?

The state of Massachusetts does not require prelicensing education. However, due to the difficulty of the test it is advised to enroll in a pre-study class.
Massachusetts Property And Casualty License Requirements
Property And Casualty Prelicense Massachusetts Requirements For Resident Agents
Individual states have different rules regarding prelicensing requirements for taking the property and casualty licensing exam. Massachusetts has no prelicensing requirements. However, while there may be fewer obstacles to taking your licensing exam, it also means there is less incentive to put in the requisite amount of study time required to pass that exam on the first attempt.
To resolve this problem, we recommend you take one of our Agent Broker Training Center property and casualty courses. These courses can fully prepare you to take and pass the exam if you put in the proper amount of study time.
Massachusetts Property And Casualty Exam Requirements
Once you are ready and sure you are prepared to take the exam, contact Prometric to schedule. If you plan to take the combined lines property and casualty exam, you will pay a $49 examination fee. You must bring a government-issued photo I.D. to the testing center.
You will need to score 70 percent or higher on the exam to pass. Once you finish your exam, you will see your score immediately on the screen upon completion. You will also get a printed score report. If you pass, visit the National Insurance Producer Registry to apply for your license. You will not be able to apply until 48-72 hours after your passing grade is acknowledged.
Contact Info For Massachusetts P&C Licensing
To help with your examination scheduling, we have provided below information on Massachusetts licensing requirements, its insurance department, and examination scheduling facilities.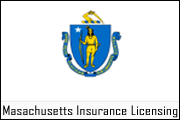 Massachusetts Department of Insurance - Licensing DivisionAddress:
One South Station, 5th Floor | Boston MA 02110-2208
Phone:
617.521.7794
Fax:
617.521.7576
Website:
http://www.mass.gov/doi
Examination SchedulingProvider:
Prometric
Phone:
1.800.741.9380
Website:
http://www.prometric.com/Massachusetts/Insurance.htm
Good luck passing your Massachusetts P&C insurance licensing exam!
Other Insurance Licensing Courses For Massachusetts:
Disclaimer
This information is based on state laws and regulations, and is subject to change. ABTrainingCenter makes every effort to make sure this information is current and accurate, however, ABTrainingCenter is not engaged in rendering legal or professional advice and shall not be held responsible for inaccuracies contained herein.