Washington P&C Insurance License Courses And Exam Prep Materials
Best-Selling Training Courses:
Instructor-Led: Webinars
Online Training Courses
Property And Casualty Insurance Courses For Washington State
About Washington State's Property And Casualty Insurance License
Are you looking to earn your Washington Property and Casualty Insurance License? Searching for the proper training courses and exam prep materials? Then you are in the right place! We are your ultimate source for exam pre-licensing materials and licensing courses for a Washington insurance license.
Earn Your Insurance License With Our Washington State P&C Licensing Courses
Before you are able to offer property and casualty insurance to clients, you must receive pre-licensing education. This is to ensure that agents are fully equipped to provide the best possible service to clients. Luckily, we offer Washington property and casualty licensing courses in an online format.
The courses are designed to thoroughly cover the required rules and regulations specific to Washington. Additionally, the courses provide valuable exam taking tips.
Recommended Washington P&C Insurance Licensing Courses And Exam Prep Materials
Our property and casualty course is state-approved and satisfies Washington's pre-license education requirements. To find Washington property and casualty insurance licensing courses, study guides, sample exams, and other exam prep materials, simply click on the recommended course below or select "Property & Casualty" and your state from the "Licensing" section of the search box below. Good luck passing your Washington state P&C insurance licensing exam and becoming a Washington state insurance agent!
Best-Selling Training Courses:
Instructor-Led: Webinars
Online Training Courses
Find Seminars, Webinars, And Online Training In Your Area
How To Become A Washington State Property And Casualty Insurance Agent
Property And Casualty Pre-License Requirements For Washington Resident Agents
The state of Washington mandates that persons interested in becoming a licensed agent complete pre-licensing education before registering for an exam or applying for a license.
Washington requires that you complete 20 hours of this education for each of the lines you plan to pursue. Our courses satisfy this 20-hour requirement, and once you complete a course, you will be provided with a certificate allowing you to take the exam. Please note that you will need to have this certificate with you when you go to take the exam.
Because passing the property and casualty license exam means that you are licensed for two lines, you must have both certificates when you take the exam.
Washington P&C Exam Requirements
Once you have completed the necessary education prerequisites, it's time to schedule your exam. You can schedule your exam through PSI Exams Online. When taking the test, you will be given over three hours to complete it.
When you take the combination Property and Casualty insurance licensing exam, you must pay a $66 examination fee. If you have to retake the exam, you will need to pay an additional $66.
Contact Info: Washington Property And Casualty License Requirements
To help with your examination scheduling, we have provided below information on Washington licensing requirements, its insurance department, and examination scheduling facilities.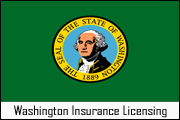 Commissioner of Insurance, State of WashingtonAddress:
PO Box 40257 | Olympia, WA 98504
Phone:
360.725.7144
Fax:
360.586.2019
Website:
http://www.insurance.wa.gov
Examination SchedulingProvider:
PSI
Phone:
800.733.9267
Website:
http://www.psiexams.com
Good luck passing your Washington P&C insurance licensing exam!
Other Insurance Licensing Courses For Washington:
Disclaimer
This information is based on state laws and regulations, and is subject to change. ABTrainingCenter makes every effort to make sure this information is current and accurate, however, ABTrainingCenter is not engaged in rendering legal or professional advice and shall not be held responsible for inaccuracies contained herein.