South Carolina P&C Insurance License Class Exam Prep Materials
Property And Casualty Insurance Courses In South Carolina
About The South Carolina Property And Casualty Insurance License
If you want to succeed as a property and casualty insurance broker in Charleston, Mount Pleasant, Rock Hill, Greenville, Summerville, Sumter, Hilton Head, Florence, Spartanburg, Myrtle Beach, Columbia, and other cities in South Carolina, you have to start with the right license. If you are seeking information about property and casualty pre-licensing requirements, exams and exam prep in South Carolina, start with ABTrainingCenter.com.
What A Property And Casualty License In South Carolina Can Do For You
In addition to health and life insurance, many residents choose property and casualty insurance to protect themselves and their families. When you earn your property and casualty license in South Carolina, you will be able to offer these valuable types of insurance to local South Carolina residents.
Recommended South Carolina P&C Insurance Licensing Courses And Exam Prep Materials
Agent Broker Training Center has many courses and study materials to prepare you for your property and casualty licensing exam. To find South Carolina property and casualty insurance licensing courses, simply click on any of the recommended courses below or select "Property And Casualty" and your state from the "Licensing" section of the search box below. Good luck passing your South Carolina P&C insurance licensing exam and becoming a South Carolina insurance agent!
Recommended Training Courses:
Online Training Courses
Self-Study Materials
Find Seminars, Webinars, And Online Training In Your Area
How To Become A South Carolina Property And Casualty Insurance Agent
Property And Casualty Pre-License Requirements For South Carolina Resident Agents
South Carolina does not require any pre-licensing courses or hourly requirements for those wishing to take a property or casualty licensing exam. Yet it is important to make sure you are fully prepared before you take the exam.
You can find P&C license courses that will help you effectively prepare for the South Carolina property and casualty licensing exam by clicking the links below.
South Carolina Property And Casualty Exam Requirements
After you study and prepare, you can schedule your exam by contacting PSI Exams online or by phone at 1-800-733-9267. Be prepared to submit a $45 fee for the examination. When you arrive at the exam, you will be asked to show a photo I.D., such as a passport or driver's license.
If you are taking only the property or only the casualty insurance licensing exam, your test will be 100 questions. The test is multiple- choice and you have two hours to finish it. For a passing grade, you must score a 70 percent or higher.
If you are taking the combined property and casualty licensing exam, you have two and a half hours to complete 150-question test, with 70 percent still required to pass. You will learn your score as soon as you complete the exam. If you pass, contact the South Carolina Insurance Department website to apply for your license.
Contact Info: South Carolina Property And Casualty License Requirements
To help with your examination scheduling, we have provided below information on South Carolina licensing requirements, its insurance department, and examination scheduling facilities.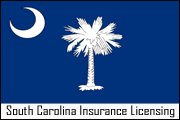 South Carolina Department of Insurance - Licensing and Education ServicesAddress:
Capitol Center | 1201 Main St. Suite 1000 | Columbia, SC 29201
Phone:
803.737.6160
Fax:
803.737.6100
Email:
info@doi.sc.gov
Website:
https://www.doi.sc.gov/354/Licensing-CE
Examination SchedulingProvider:
PSI Exams
Phone:
1.800.733.9267
Website:
https://candidate.psiexams.com/registration/displayagencylicenses_home.jsp
Good luck passing your South Carolina P&C insurance licensing exam!
Other Insurance Licensing Courses For South Carolina:
Disclaimer
This information is based on state laws and regulations, and is subject to change. ABTrainingCenter makes every effort to make sure this information is current and accurate, however, ABTrainingCenter is not engaged in rendering legal or professional advice and shall not be held responsible for inaccuracies contained herein.