Colorado Property & Casualty Insurance Licensing Info
Best-Selling Training Courses:
Instructor-Led: Webinars
Online Training Courses
Earn Your Colorado Insurance License With Our Colorado Exam Pre-Licensing Materials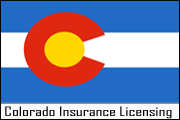 Searching for Colorado Insurance Licensing schools or classes to earn your Colorado Insurance License? Then you've come to the right place!
ABTrainingCenter.com offers state-approved Colorado Insurance Licensing courses for those individuals who are interested in becoming a licenses Insurance Agent in the state of Colorado.
Why A Colorado Property And Casualty Licensing Training Course?
Colorado has great weather for skiing, but that also means you get snow and hail storms, and these storms have historically created property and damage claims, including one recent Denver-area hailstorm that caused $2.3 billion in damage, and another that spurred 27,000 claims totaling $172.8 million. Bottom line? Homeowners need property and casualty insurance, and you can help them by getting your Colorado P&C insurance license to help residents in Denver, Colorado Springs, Aurora, Fort Collins, and other cities.
A property and casualty insurance license can help you take your insurance business to the next level. Whether you are looking to sign on with a bigger insurance agency or to expand your own company, being able to offer property and casualty insurance in Colorado should be a key part of your insurance business strategy.
About Our Colorado Property And Casualty Exam Prep Materials
We offer property and casualty license training courses that fulfil applicalble prelicense education requirements. Courses are available in seminar, online, and self-study formats. Our Colorado P&C exam prep materials materials are delivered in an easy-to-understand manner that provides important insights and valuable exam tips and strategies covering Colorado's rules and regulations for P&C insurance licensing. You receive:
Print and online tools that include a comprehensive textbook utilizing short, focused paragraphs with numerous graphics and exercises to help students learn faster and retain critical information
Exam Tips, Study Calendar, and hundreds of practice exam questions
State Law Supplement that provides the most current state laws and regulations
Videos that can be viewed anytime, anywhere, and as frequently as you like
Instructor email access for help with any tough areas
Use our Colorado property and casualty exam prep materials to test yourself with practice questions and solutions, pinpoint problem areas by building customized exams based on difficulty, length, and topic of your choice, and create online personal notes and bookmarks for future reference.
Recommended Colorado Property And Casualty Insurance Courses
You'll find the Colorado P&C license courses you need here at Agent Broker Training Center. We offer comprehensive courses with all the information you need to pass the exam. These are state-approved courses that can meet your Colorado pre-licensing requirement. Our program allows you to study the way you learn best, whether that's through in-person seminars, online classes, or self-study materials.
To find the right state-approved course for you, simply select one of the recommended courses below. For additional options, you may search under "Licensing" in the search box below for your desired Insurance License, select 'Colorado', then press 'Go!'. Good luck earning your Colorado Property & Casualty Insurance License!
Best-Selling Training Courses:
Instructor-Led: Webinars
Online Training Courses
Top FAQs
How Do I Become A P&C Insurance Agent In Colorado?
You must take your state-required pre-licensing course, then pass your state's licensing exam. After passing your exam, you typically must meet any basic state requirements such as a minimum age, passing a background check, etc.
What Does A Colorado P&C Agent Typically Do?

P&C Agents sell policies that protect people and businesses against property damage. Policies typically cover homes, cars, trucks, and boats from fire, theft, and other events. You'll work with clients on what policies best suit their needs, tailor policies to fit their requirements, and help customers when they have questions or need to change their coverages.
What Is An Independent Agent?

If you work for a firm like AllState, you sell their produsts only. As an Independent Agent, you can sell products from several companies.
How Is An Independent Agent Compensated?

Independent Insurance Agents typically earn commissions for selling various insurance products.
What Are The Pros And Cons Of Being An Insurance Agent In Colorado?

Pros include flexible work schedules, high incomes via commissions, and helping your neighbors. Cons include low pay if you don't produce, pressure of working in a sales position.
What Is On The Colorado P&C Licensing Exam?

The majority of the exam will cover in-depth product knowledge, industry terms, and insurance concepts relating to the license you are pursuing – this is the "general section." There is also a "state section" that will cover rules and regulations found in the Colorado Revised Statutes (CRS) and the State of Colorado's licensing requirements.
How many questions are on the Colorado P&C licensing exam?

The property exam is 90 questions and 2 hours. The casualty section is 96 questions and 2 hours.
What Is The Pass Rate On Your Colorado P&C licensing exam?

Statewide for all exam takers, 81%, but with our courses, 97%.
How Much Does It Cost To Get A P&C License In Colorado?

The licensing exam fee is $48 and the license application fee is $89.
Colorado Property And Casualty Licensing Info For CO Insurance Agents
Colorado Property And Casualty Pre-Licensing Requirements For Resident Insurance Agents
A Colorado insurance license first requires meeting pre-licensing requirements. Specifically, property and casualty pre-licensing in Colorado requires completing a 50-hour Colorado Department of Insurance-approved pre-licensing course on property and casualty insurance. After completing the course you must demonstrate proficiency by scoring 70% or higher on the pre-licensing certification exam.
After your pre-licensing you will need to take the state's licensing exam which you can schedule through Pearson VUE at 1-800-274-2616. You also can schedule the exam online. The associated fee with the exam is $48.
When you show up at the testing site at your assigned time, be sure to have your certificate showing successful completion of the pre-licensing course, along with two valid government-issued photo IDs. You will learn immediately upon completion whether or not you passed the exam. Once you pass, apply for the license online with NIPR.
Colorado Property And Casualty Licensing Examination Requirements
The Colorado property insurance examination is a 90-question test, with 15 of those being unscored pre-test questions. You have two hours to complete the test in subjects including:
Insurance Terms and Related Concepts
Policy Provisions and Contract Law
Types of Policies
Colorado Statutes, Rules, and Regulations Common to All Lines
Colorado Statutes, Rules and Regulations for Property and Casualty Only
Colorado Statutes, Rules and Regulations Pertinent to Property Only
The Colorado casualty examination is also two hours, but for 96 questions, including the unscored 15 pre-test questions. Topics include:
Insurance Terms and Related Concepts
Policy Provisions
Types of Policies, Bonds and Related Terms
Colorado Statutes, Rules, and Regulations Common to All Lines
Colorado Statutes, Rules and Regulations for Property and Casualty Only
Colorado Statutes, Rules and Regulations Pertinent to Casualty Only
A passing score requires that you get at least 70% of the questions right on each exam.
Contact Info: Colorado P&C
Licensing Info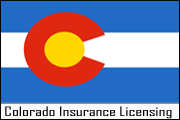 Colorado Department of Insurance - Licensing DivisionAddress:
1560 Broadway, Suite 850 | Denver, CO 80202
Phone:
1.800.475.8288
Fax:
303.894.7455
Website:
http://www.dora.state.co.us/insurance
Examination FacilityProvider:
Pearson VUE
Phone:
1.800.274.2616
Website:
http://www.pearsonvue.com/co/insurance/
Other Insurance Licensing Courses For Your State:
Good luck pasing your Colorado Property & Casualty insurance licensing exam!
Disclaimer
This information is based on state laws and regulations, and is subject to change. ABTrainingCenter makes every effort to make sure this information is current and accurate, however, ABTrainingCenter is not engaged in rendering legal or professional advice and shall not be held responsible for inaccuracies contained herein.