New York P&C Insurance License Class & Exam Prep Materials
New York Property And Casualty Insurance Courses
How To Earn A New York Insurance License For Property And Casualty
To sell property and casualty insurance in New York, you need to be properly licensed. ABTrainingCenter.com has all the pre-licensing requirements, licensing exam and preparation information you need.
What A Property And Casualty License In New York Can Do For You
By earning your property and casualty license, you can become the provider of an extremely valuable asset in New York. Your ability to provide property and casualty insurance to New Yorkers offers tremendous potential for your business.
Where Should I Offer Property & Casualty Insurance In New York?
The largest cities, by population include New York City, Buffalo, Rochester, Syracuse, Albany, New Rochelle, Mount Vernon, and Schenectady, so operating your agency in or near one of these cities will give you a larger potential market base.
Recommended New York P&C Insurance Licensing Courses And Exam Prep Materials
To find New York property and casualty insurance licensing courses, simply click on any of the recommended courses below or select "Property & Casualty" and your state from the "Licensing" section of the search box below. Good luck passing your New York P&C insurance licensing exam and becoming a New York insurance agent!
Find Seminars, Webinars, And Online Training In Your Area
How To Become A New York Property And Casualty Insurance Agent
New York Property And Casualty Prelicense Requirements For Resident Agents
Before sitting for the licensing exam, you will need to take a 96-hr state-approved pre-licensing course and pass a detailed certification exam at the end. This course, like the ones we offer at Agent Broker Training Center, will give you insight into the kinds of questions asked on the exam and how to answer them, vastly improving your chances of passing the exam on the first attempt.
What Is On The New York Property And Casualty Insurance Agent/Brokers Exam?
Below are the content areas that typically appear on the New York Property And Casualty insurance licensing exam:
9% = Insurance Regualtion
9% = General Insurance
13% = Property and Casualty Insurance Basics
14% = Homeowners Policies
6% = Dwellings
11% = Auto Insurance
11% = Commercial Package Policies
8% = Businessowners Policies
8% = Workers' Compensation Insurance
4% = Accident and Health Insurance
7% = Insurance Regulation
New York Property And Casualty Exam Requirements
When you complete your pre-licensing course and pass the certification exam, make sure you receive a certificate of completion. Then, schedule your exam online with PSI Services LLC.
Arrive on schedule with your certificate of completion and two valid forms of government-issued identification. Only one needs to be a picture I.D.
The New York Property and Casualty Insurance Agent/Broker Exam is a 150-question multiple-choice exam that you will have two and a half hours to complete. The questions cover a wide variety of topics, including homeowners' policies, business owners' policies and workers' compensation. If you achieve a 70 percent score or higher, you have passed the exam. You will receive a printed score report that shows your score and result.
If you pass, you can apply for your license on the state insurance website's Original License Application page. Before you do so, you must submit to fingerprinting.
Contact Info: New York Property And Casualty License Requirements
To help with your examination scheduling, we have provided below information on New York licensing requirements, its insurance department, and examination scheduling facilities.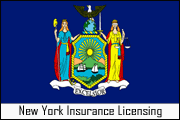 New York State Department of Financial ServicesAddress:
One State Street | New York, NY 10004-1511
Phone:
518.474.6600
Email:
licensing@dfs.ny.gov
Website:
https://www.dfs.ny.gov/apps_and_licensing/agents_and_brokers/home
Examination SchedulingProvider:
PSI Exams
Phone:
877-392-6422
Website:
PSIExams.com
Good luck passing your New York P&C insurance licensing exam!
Other Insurance Licensing Courses For New York:
Disclaimer
This information is based on state laws and regulations, and is subject to change. ABTrainingCenter makes every effort to make sure this information is current and accurate, however, ABTrainingCenter is not engaged in rendering legal or professional advice and shall not be held responsible for inaccuracies contained herein.