Oregon Property & Casualty Insurance License Class & Exam Prep
Property And Casualty Insurance Courses In Oregon
About The Oregon Property And Casualty Insurance License
Before you are ready to sell property and casualty insurance in Oregon, you need to obtain an Oregon property and casualty insurance license. Not sure how to do that? You've come to the right place! Here you will find all the information you need, including pre-licensing information, exam information and how ABTrainingCenter.com can help.
What A Property And Casualty License In Oregon Can Do For You
A property and casualty license will allow you to sell property or casualty insurance policies to your Oregon customers. Many homeowners and residents have valuable property to protect, so with this license, you can dramatically expand your customer base.
Recommended Oregon P&C Insurance Licensing Courses And Exam Prep Materials
To find Oregon property and casualty insurance licensing courses, simply click on any of the recommended courses below or select "Property And Casualty" and your state from the "Licensing" section of the search box below. Good luck passing your Oregon P&C insurance licensing exam and becoming an Oregon insurance agent!
Recommended Training Courses:
Online Training Courses
Find Seminars, Webinars, And Online Training In Your Area
How To Become An Oregon Property And Casualty Insurance Agent
P&C Pre-License Requirements For Oregon Resident Agents
Insurance Licensing is regulated at the state level and, as such, each state government establishes its own insurance licensing requirements and examination procedures. To obtain an Oregon insurance license, you need to follow the pre-licensing requirements specific to Oregon. If you are interested in how to become an insurance agent in Oregon, see the general and specific pre-licensing requirements for the state of Oregon below.
General Requirements
You must be 18 years or older
You must be a resident of Oregon or, if not a resident, your principal place of business must be in Oregon
You must submit your fingerprints
You must complete an approved prelicensing course of study (see requirements based on the type of license you are seeking below)
You must submit your license application within 12 months of passing the prelicensing exam or you will have to retake your prelicensing
You must pass the required state licensure examination and file the proper application for an Oregon insurance license
Specific Oregon Insurance Requirements
Oregon Property Insurance License: In addition to examination requirements, property insurance license applicants must complete 20 hours of property insurance PLE
Oregon Casualty Insurance License: In addition to examination requirements, casualty insurance license applicants must complete 20 hours of casualty insurance PLE
Oregon Property and Casualty Insurance: For a combined property & casualty insurance license in Oregon, you must complete 40 hours of property and casualty PLE in addition to examination requirements
Oregon Non-Resident Insurance License Information
If you are a licensed resident in good standing in your home state, you may acquire an Oregon insurance producer license as a non-resident providing you hold an equivalent license to the line of authority you are seeking licensure for in Oregon. You must apply for your license transfer within 90 days of establishing residency in Oregon.
Contact Info: Oregon Property And Casualty License Requirements
To help with your examination scheduling, we have provided below information on Oregon licensing requirements, its insurance department, and examination scheduling facilities.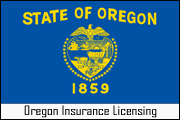 Oregon Division Of Financial RegulationAddress:
350 Winter Street N.E., Room 440-3 | Salem, OR 97301-3883
Phone:
503-947-7981
Email:
web.insagent@oregon.gov
Website:
https://dfr.oregon.gov/business/licensing/insurance/Pages/producer-licensing.aspx
Examination SchedulingProvider:
PSI Exams
Phone:
503.378.4140
Website:
https://candidate.psiexams.com/
Good luck passing your Oregon P&C insurance licensing exam!
Other Insurance Licensing Courses For Oregon:
Disclaimer
This information is based on state laws and regulations, and is subject to change. ABTrainingCenter makes every effort to make sure this information is current and accurate, however, ABTrainingCenter is not engaged in rendering legal or professional advice and shall not be held responsible for inaccuracies contained herein.