The insurance industry presents many exciting opportunities in South Dakota. But first, you need the proper license. For information about pre-licensing requirements, licensing exam parameters and how to best prepare for the South Dakota property and casualty insurance licensing exam, turn to ABTrainingCenter.com.
Many residents of South Dakota have a good deal of property they need to protect with the right insurance. To offer them this insurance protection, you must obtain a South Dakota property and casualty insurance license.
Your best chance at passing the first time is with the right preparation. Find the appropriate Agent Broker Training Center materials and courses with the links below or search for "Property And Casualty" and your state from the "Licensing" section of the search box below. Good luck passing your South Dakota P&C insurance licensing exam and becoming a South Dakota insurance agent!
How To Become A South Dakota Property And Casualty Insurance Agent
Property And Casualty Pre-License Requirements For South Dakota Resident Agents
In South Dakota, there are no pre-license requirements for those wishing to take the property and casualty insurance licensing exam. However, make sure you are fully prepared before taking the exam.
We strongly encourage you to look for the appropriate P&C courses or study materials from Agent Broker Training Center. Register today so you can properly prepare for your property and casualty exam.
South Dakota Property And Casualty Exam Requirements
South Dakota insurance licensing exams are managed by Pearson VUE. If you are ready to take your property and casualty licensing exam, call Pearson VUE at 1-800-274-5993 or schedule your exam online. On the day of the exam, be prepared to show a driver's license, passport or other valid, government-issued photo I.D.
If you are pursuing only a property insurance license or only a casualty insurance license, you will take a two-hour, 90-question, multiple-choice exam. If you are taking the combined South Dakota property and casualty insurance exam, you will face 145 questions in two and a half hours. Either way, you will need to score 70 percent or greater to pass.
Once you complete your exam, you will get a score report that tells you if you have passed or failed. If you pass, you can apply for your license online through Sircon or through the NIPR website.
Contact Info: South Dakota Property And Casualty License Requirements
To help with your examination scheduling, we have provided below information on South Dakota licensing requirements, its insurance department, and examination scheduling facilities.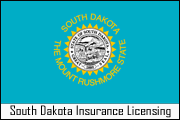 South Dakota Division of Insurance - Producer Licensing DivisionAddress:
445 E. Capitol Avenue | Pierre, SD 57501-2000
Phone:
605.773.3513
Fax:
605.773.5369
Website:
https://dlr.sd.gov/insurance/about_us.aspx
Examination SchedulingProvider:
Pearson VUE
Phone:
1.800.274.5993
Website:
http://www.pearsonvue.com
Good luck passing your South Dakota P&C insurance licensing exam!
Other Insurance Licensing Courses For South Dakota:
Disclaimer
This information is based on state laws and regulations, and is subject to change. ABTrainingCenter makes every effort to make sure this information is current and accurate, however, ABTrainingCenter is not engaged in rendering legal or professional advice and shall not be held responsible for inaccuracies contained herein.