Missouri P&C Insurance License Courses & Exam Prep Materials
Best-Selling Training Courses:
Instructor-Led: Webinars
Online Training Courses
Property And Casualty Insurance Courses In Missouri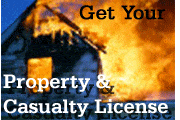 About The Property And Casualty Missouri Insurance License
Selling property and casualty insurance in Missouri can be a lucrative profession, but you want to approach it the right way. Specifically, you need to make sure you are properly licensed before you begin selling property or casualty insurance. Here is a look at what you need to know with regard to prelicensing and licensing exam requirements for a property and casualty license in Missouri, along with how ABTrainingCenter.com can help.
What A Missouri Property And Casualty Insurance License Can Do For You
People's homes, cars and other assets in Missouri are quite important to them, and they need a way to protect them. Every valuable asset someone has is a good candidate for insurance, and you want to be able to be the broker who provides it. Without property and casualty as part of your business, you are cutting yourself off from a large chunk of potential policy sales. The property and casualty insurance license allows you to build the Missouri insurance business you really want.
Property And Casualty Prelicense Missouri Requirements For Resident Agents
Many states have prelicensing requirements that necessitate hours of coursework and a certification exam before you can sit for the licensing exam, but Missouri does not. While this means all you really have to do to qualify for licensing is pass the licensing exam, you should not discount the idea of attending a property and casualty licensing class. If you are not familiar with the material that will be on the licensing test and do not know what to expect, it will be very difficult to pass.
Without prelicensing to guide you, you need the assistance of experienced property and casualty insurance professionals who can prepare you to pass the P&C exam on the first try. At Agent Broker Training Center, we have just what you need. Our online property and casualty licensing prep course features practice questions that look just like ones you are likely to see on your test. Additionally, our comprehensive study materials and expert instruction provide you with the knowledge you need for the property and casualty licensing exams.
Recommended Missouri Property And Casualty Insurance Courses And Exam Prep Materials
To find Missouri Property & Casualty insurance licensing courses and exam prep materials, simply click on any of the recommended courses below or select "Property & Casualty" and your state from the "Licensing" section of the search box below. Good luck passing your Missouri P&C insurance licensing exam!
Best-Selling Training Courses:
Instructor-Led: Webinars
Online Training Courses
Find Seminars, Webinars, And Online Training In Your Area
How To Become A Missouri Property And Casualty Insurance Agent
Missouri Property And Casualty Exam Requirements
Once you have sufficiently studied and prepared yourself for the exam, you are ready to register with Pearson VUE. The fee for the exam will be $39 for each individual line or $49 for the combined lines property and casualty exam.
At your scheduled exam time, you will need to arrive with two forms of valid I.D., one of which must be a photo I.D. like a driver's license or passport.
If you are just taking the property insurance line or casualty insurance line, you can expect a 110-question test that is multiple choice. You will have two hours to complete it, and a score of 70 percent or higher is required to pass. For the combined property and casualty insurance examination, you will need a 70 percent or higher to pass as well. There will be 170 multiple-choice questions that feature topics in both areas, and you will have three hours to complete it.
Contact Info: Missouri Property And Casualty License Requirements
To help with your examination scheduling, we have provided below information on Missouri licensing requirements, its insurance department, and examination scheduling facilities.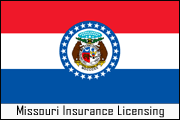 Missouri Department of Insurance - Licensing DivisionAddress:
P.O. Box 690 | Jefferson City, MO 65102-0690
Phone:
573.751.3518
Fax:
573.526.3416
Email:
licensing@insurance.mo.gov
Website:
https://insurance.mo.gov/agents
Examination SchedulingProvider:
Pearson VUE
Phone:
1.866.274.4740
Website:
http://www.pearsonvue.com/mo/insurance/
Good luck passing your Missouri P&C insurance licensing exam!
Other Insurance Licensing Courses For Missouri:
Disclaimer
This information is based on state laws and regulations, and is subject to change. ABTrainingCenter makes every effort to make sure this information is current and accurate, however, ABTrainingCenter is not engaged in rendering legal or professional advice and shall not be held responsible for inaccuracies contained herein.