Kansas Property & Casualty Insurance License
Best-Selling Training Courses:
Instructor-Led: Webinars
Online Training Courses
Earn Your Kansas Property And Casualty Insurance License!
Some of the biggest insurance lines available are property and casualty insurance. If you would like to add property and casualty insurance to your offerings as an insurance agent, you'll need to have the proper license. If you're looking for the best possible preparation for the property and casualty licensing exam in Kansas, you'll find it by choosing training courses and materials from ABTrainingCenter.com.
What A Kansas Insurance License In Property And Casualty Insurance Can Do For You
There are some clear priorities that people have when it comes to purchasing insurance policies. People want to protect themselves and their families with life and health insurance, and they want to protect their possessions with property and casualty insurance. Whether you have a life and health insurance license already or not, adding property and casualty insurance policies to your offerings is a must if you want to get the most out of your insurance agency business.
Property And Casualty Pre-License Kansas Requirements For Resident Agents
Unlike a number of other states, there are no specific pre-licensing requirements for a Kansas property and casualty insurance license. While this may make it seem easier to obtain the license, the truth is it can often mean many people are poorly prepared to take the exam. You will not have this problem because you can take an online property and casualty prep course with Agent Broker Training Center, and learn everything you need to know to pass that exam the first time around.
While there is no pre-licensing obstacle to taking your Kansas Property and Casualty exam, the fingerprinting and background check requirement may give you pause. In order to register for the exam, carefully follow these steps.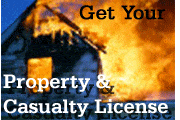 Fill out and submit your fingerprint card request form
Get the Waiver Agreement and Statement form
When you receive your fingerprint card, take it to the police station for printing. Make sure you have the waiver agreement and a photo I.D.
Make sure you and the officer who takes the prints sign the print card and fill out the waiver form
Give the officer an envelope with postage for delivery confirmation made out to: Kansas Insurance Department, ATTN: Producer Licensing, 420 SW 9th St., Topeka, KS 66612 so they can send in your prints.
Then it's time to register for the exam. First, submit the NAIC Uniform Application for an Individual Insurance Producer License. Then, schedule your exam with Pearson VUE. There is a $64 exam fee.
Kansas Property And Casualty Exam Requirements
When you finally get to the exam on the scheduled date, you will need two forms of I.D., a photo I.D. such as a driver's license and a secondary I.D. Then it's time to take the test. The combined Property, Casualty and Allied Lines Insurance Examination is 156 questions (140 scored, 16 pre-test). You have 2.5 hours to complete it.
Get 70% or more correct to pass. You will receive a score report with instructions for what to do next to get your license.
Kansas P&C Licence Courses With Agent Broker Training Center
Our property and casualty insurance online exam prep course is the perfect way to prepare yourself to pass this exam. It includes online coursework delivered by experts in this area of insurance, test-taking tips, practice questions and much more. We also offer self-study packages if that is your preferred study method. You can find the courses and materials you need by clicking the links below.
Recommended Kansas Property And Casualty Insurance Licensing Courses And Exam Prep Materials
Our Kansas P&C license courses are the perfect way to study for your Kansas property and casualty exam. Our study materials and sample exams cover the information you need, and is presented in a way that is easy to understand. Plus, you can choose the style of learning that best suits you, whether that is an online program or self-study materials. Good luck passing your Kansas Property And Casualty insurance licensing exam!
To find Kansas P&C licensing courses, either click on a Recommended Course below, or select "Insurance - Property & Casualty" and your state from the "Licensing" section of the search box below. Good luck passing your Kansas Property And Casualty insurance licensing exam!
Best-Selling Training Courses:
Instructor-Led: Webinars
Online Training Courses
Find Seminars, Webinars, And Online Training In Your Area
Contact Info: Kansas Property And Casualty License Requirements
To help with your examination scheduling, we have provided below information on Kansas licensing requirements, its insurance department, and examination scheduling facilities.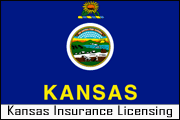 Kansas Department of Insurance - Licensing DivisionAddress:
420 S.E. 9th Street | Topeka, KS 66612-1678
Phone:
785.296.7862
Fax:
785.368.7019
Email:
licensing@ksinsurance.org
Website:
http://www.ksinsurance.org
Examination SchedulingProvider:
Pearson VUE
Phone:
1.888-204-6255
Website:
http://www.pearsonvue.com/ks/insurance/
Good luck passing your Kansas P&C insurance licensing exam!
Other Insurance Licensing Courses For Kansas:
Disclaimer
This information is based on state laws and regulations, and is subject to change. ABTrainingCenter makes every effort to make sure this information is current and accurate, however, ABTrainingCenter is not engaged in rendering legal or professional advice and shall not be held responsible for inaccuracies contained herein.