New Mexico P&C Insurance Pre-License Class & Exam Prep Materials
Best-Selling Training Courses:
Instructor-Led: Webinars
Online Training Courses
Property And Casualty Insurance Courses In New Mexico
About The New Mexico Insurance License For Property And Casualty
Looking to pursue a property and casualty insurance license in New Mexico? Then you've come to the right place!
At ABTrainingCenter.com, we have all the information you need about pre-licensing requirements, taking the licensing exam and how to prepare for the exam with our state-specific courses.
What A Property And Casualty License In New Mexico Can Do For You
If you are looking to open or become part of a general insurance business, you want to offer as many lines as possible to accommodate your loyal customers. Looking to specialize in just one or two lines? Then you want to pick types of insurance that most people need. Either way, property and casualty insurance can be the answer.
Getting a license to offer property and casualty insurance policies in New Mexico is a great way to get started or expand your insurance business.
Recommended New Mexico P&C Insurance Licensing Courses And Exam Prep Materials
Our courses are carefully researched and rigorously designed to give you exactly the kind of information you need to pass the property and casualty insurance licensing exam on the first try. Register for your course to get started today!
To find New Mexico property and casualty insurance licensing courses, simply click on any of the recommended courses below or select "Property & Casualty" and your state from the "Licensing" section of the search box below. Good luck passing your New Mexico P&C insurance licensing exam and becoming a New Mexico insurance agent!
Best-Selling Training Courses:
Instructor-Led: Webinars
Online Training Courses
Find Seminars, Webinars, And Online Training In Your Area
How To Become A New Mexico Property And Casualty Insurance Agent
Property And Casualty Prelicense New Mexico Requirements For Resident Agents
Unlike other states, New Mexico does not have pre-licensing requirements to sit for the licensing exam. However, taking a property and casualty licensing course will dramatically improve your chances of passing the exam on the first try. Our state-specific courses are the perfect way to prepare for the New Mexico property and casualty licensing exam.
New Mexico Property and Casualty Exam Requirements
The process for obtaining a property and casualty license in New Mexico is different than most other states. You will first apply for your insurance license by filling out Form 210, an Examination Registration Form and some supplementary documentation. You can find the forms online from the New Mexico Office of Superintendent of Insurance (OSI).
Once you have submitted your forms, you can register for your exam through Prometric for a $75 fee. You will need to bring a valid photo I.D. to the exam.
The exam is computer-administered and multiple choice. There are 100 questions for the property insurance exam and 100 questions for the casualty insurance exam. You have two hours to complete each exam.
If you pass, congratulations! You will be informed and your scores will be automatically submitted to the OSI. Once your scores are received, your license will be sent to you.
Contact Info: New Mexico Property And Casualty License Requirements
To help with your examination scheduling, we have provided below information on New Mexico licensing requirements, its insurance department, and examination scheduling facilities.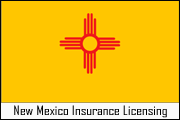 New Mexico Department of Insurance - Licensing DivisionAddress:
P.O. Box 1269 | Santa Fe, NM 87504-1269
Phone:
855-427-5674
Fax:
505.827.4373
Website:
https://www.osi.state.nm.us/ProducerLicensing/index.aspx
Examination SchedulingProvider:
Prometric
Phone:
1.800.813.6737
Website:
http://www.prometric.com/NewMexico/Insurance.htm
Good luck passing your New Mexico P&C insurance licensing exam!
Other Insurance Licensing Courses For New Mexico:
Disclaimer
This information is based on state laws and regulations, and is subject to change. ABTrainingCenter makes every effort to make sure this information is current and accurate, however, ABTrainingCenter is not engaged in rendering legal or professional advice and shall not be held responsible for inaccuracies contained herein.