Connecticut Property & Casualty Licensing & Exam Prep
Earn Your Connecticut P&C Insurance License With Our CT Pre-Licensing Courses And Exam Prep Materials!
ABTrainingCenter.com offers Connecticut Insurance Licensing courses approved by the Connecticut Department of Insurance for those individuals who are interested in becoming an Insurance Agent or earning some other type of Insurance License in Connecticut. Read below for information about - and recommended courses for - earning your CT P&C license.
What A Connecticut Property And Casualty Insurance License Can Do For You
If you are an insurance agent in Connecticut, the more types of policies you can offer the better. According to the most recent statistics, Connecticut wrote $8.6 billion in direct annual insurance premiums, with multiple peril policies amounting to almost $1.5 billion and federal flooding direct premiums totaling almost $47 million.
Even if you have a current Connecticut insurance license, it may not be sufficient to serve all your clients. Earning your property and casualty insurance license puts you in a better place to help them and help yourself. The more you put into your insurance training, the greater the heights you can achieve for residents of Hartford, Danbury, Bridgeport, New Haven, Waterbury, Norwalk, and more.
Pre-Licensing Requirements For Insurance Agents In Connecticut
Insurance Licensing is regulated at the state level and, as such, each state government establishes its own insurance licensing requirements and examination procedures.
In Connecticut, those regulations include pre-licensing. The property and casualty pre-license Connecticut requirement is the completion of a state-approved pre-licensing course. You must show sufficient knowledge of the material with a 70% or greater grade on a pre-licensing certification exam. Agent Broker Training Center offers state-approved Connecticut P&C license courses to help you meet your requirement and prepare you for the actual exam.
Once you pass the certification exam, you are ready to schedule your test. In Connecticut, you will schedule with Prometric, which you can do online or at 1-800-341-3257. All you need to bring with you to the test is a valid photo ID from a government agency like a driver's license or passport and your certificate of pre-licensing completion. When you have been notified that you passed the test, go to NIPR to apply for your license online.
Connecticut Property And Casualty Licensing Examination Requirements
Connecticut offers both a Property and a Casualty license. Though you can specialize in only one of these areas, most people take both exams at the same sitting so they can offer a broader range of coverage to their clients (and yes, you can sit for both exams at the same time).
The Connecticut property insurance examination is 100 questions on the following topics:
General Insurance
Property Insurance Basics
Dwelling Policy
Homeowners Policy
Commercial Package Policy (CPP)
Businessowners Policy
Other Coverages and Options
Insurance Regulation
The Connecticut casualty examination has 100 questions covering:
General Insurance
Casualty Insurance Basics
Homeowners Policy
Auto Insurance
Commercial Package Policy (CPP)
Businessowners Policy
Workers Compensation Insurance
Other Coverages and Options
Insurance Regulation
You have two hours to complete each exam, and a 70% or higher success rate is required for each to pass.
Recommended Connecticut Property And Casualty Insurance Licensing Courses And Exam Prep Materials
Our Connecticut P&C license courses are the perfect way to study for your Connecticut property and casualty exam. Our study materials cover the information you need exhaustively and is presented in a way that is easy to absorb and understand. You can choose the style of learning that suits you the best, whether that is an online course you take on your own time and at your own pace on your computer, or physical self-study materials you can take with you anywhere.
Recommended Training Courses:
Webinars Or Audio Conferences
Online Training Courses
Find Seminars, Webinars, And Online Training In Your Area
Contact Info: Connecticut Property And Casualty License Requirements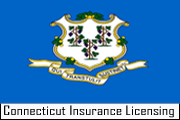 Connecticut Department of Insurance - Licensing DivisionAddress:
P.O. Box 816 | Hartford, CT 06142-0816
Phone:
860.297.3845
Website:
http://www.ct.gov/cid
Examination Scheduling
CT examination scheduling is administered by
Prometric Testing Centers
Other Insurance Licensing Courses For Connecticut:
Disclaimer
This information is based on state laws and regulations, and is subject to change. ABTrainingCenter makes every effort to make sure this information is current and accurate, however, ABTrainingCenter is not engaged in rendering legal or professional advice and shall not be held responsible for inaccuracies contained herein.