Iowa Property & Casualty Insurance License
Best-Selling Training Courses:
Instructor-Led: Webinars
Online Training Courses
Iowa Property and Casualty Insurance License Courses
You can't offer complete insurance coverage to your clients in Iowa without offering property and casualty insurance, and you can't offer property or casualty insurance in Iowa without the proper license. If you are concerned about getting the preparation you need to pass the licensing exam for property and casualty insurance in Iowa, worry no more. ABTrainingCenter.com is here with the proven exam preparatory courses you need to learn property and casualty insurance and pass that exam.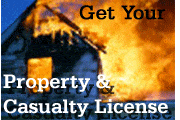 What An Iowa Property And Casualty Insurance License Can Do For You
The more lines of insurance you are licensed in, the better you can serve your Iowa customers. By earning the property and casualty insurance license, you make yourself available to provide Iowans some of the policies they need most of all. This is a great way to boost your standing and grow your insurance business.
Property And Casualty Pre-License Requirements For Iowa Resident Agents
You must pass the Iowa P&C licensing exam to become a licensed Property and Casualty agent in Iowa. Unlike most states that require agents to attend a pre-licensing course prior to sitting for the exam, in Iowa you can take the licensing exam for property and casualty insurance at any time - even without studying! That said, you have a much better chance of passing your exam the first time if you actually know what is on the exam!
To help you study and pass your exam, AB Training Center has online courses, tons of sample exam questions, and exam prep material for the Iowa property and casualty licensing exam. After taking your study course and are prepared to pass the Iowa property and casualty insurance licensing exam, contact Pearson VUE to schedule your exam. The examination registration fee is $64.
Iowa Property And Casualty Exam Requirements
Show up to the exam 30 minutes before your scheduled time so that you will have plenty of time to sign in and settle in. Be sure to bring two forms of government-issued I.D., including a primary photo I.D. and a secondary I.D., both with your signature.
The property insurance examination is a two-hour exam. It consists of 83 scored and 15 pre-test questions. The casualty insurance examination is also a two-hour multiple-choice exam with 85 scored and 15 pre-test questions. A score of 70% or higher is required for a passing grade.
Though you take the test on a computer and it is scored immediately, you may have to wait as many as three business days before your passing grade appears in the NIPR system. Once it does, you can apply for your license at the National Insurance Producer Registry anytime within the next 90 days.
Iowa P&C License Courses With Agent Broker Training Center
Our online prep course can fully prepare you to pass this exam on the first try. You can study at your own pace, with lessons provided by experienced instructors who know this material and this test, along with printed materials with a wealth of information and practice questions. You can also order a self-study package if self-directed study is your preferred learning method. Whichever you prefer, you can order your course now using the links below.
Recommended Iowa Property And Casualty Insurance Licensing Courses And Exam Prep Materials
Our Iowa P&C license courses are the perfect way to study for your Iowa property and casualty exam. Our study materials and sample exams cover the information you need exhaustively and is presented in a way that is easy to absorb and understand. Plus, you can choose the style of learning that best suits you, whether that is an online or self-study materials where you study on your own timeframe.
To find Iowa P&C licensing courses, either click on a Recommended Course below, or select "Insurance - Property & Casualty" and your state from the "Licensing" section of the search box below. Good luck passing your Iowa Property And Casualty insurance licensing exam!
Best-Selling Training Courses:
Instructor-Led: Webinars
Online Training Courses
Find Seminars, Webinars, And Online Training In Your Area
Contact Info: Iowa Property And Casualty License Requirements
To help with your examination scheduling, we have provided below information on Iowa licensing requirements, its insurance department, and examination scheduling facilities.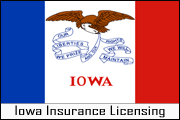 Iowa Department of Insurance - Licensing DivisionAddress:
330 Maple Street | Des Moines, IA 50319-0065
Phone:
515.281.7757
Fax:
515.281.3059
Website:
http://www.iid.state.ia.us
Examination SchedulingProvider:
Pearson VUE
Phone:
1-877.540.5825
Website:
http://www.pearsonvue.com/ia/insurance/
Good luck passing your Iowa P&C insurance licensing exam!
Other Insurance Licensing Courses For Iowa:
Disclaimer
This information is based on state laws and regulations, and is subject to change. ABTrainingCenter makes every effort to make sure this information is current and accurate, however, ABTrainingCenter is not engaged in rendering legal or professional advice and shall not be held responsible for inaccuracies contained herein.