West Virginia P&C Insurance License Courses And Exam Prep
Property And Casualty Insurance Courses In West Virginia
About Earning A West Virginia P&C Insurance License
If you are looking to earn a Property and Casualty Insurance License, we are your resource for success! To earn this license, you must complete P&C pre-license education, and then pass a comprehensive exam and background check.
Why Earn A West Virginia Property and Casualty Insurance License?
Two of the most important insurance services are property and casualty insurance. These are services that many people choose to obtain. By pursuing this license, you can sell insurance to these individuals and provide them with P&C policies.
About Our West Virginia P&C License Courses
Our West Virginia P&C pre-licensing courses prepare you for your property and casualty insurance license exam. The courses cover the rules and regulations that are specific to West Virginia, while also providing helpful tips for passing the exam.
One of the benefits of pursuing your P&C license with Agent Broker Training Center is that we offer several different ways to complete your course. Specifically, we offer both online and self-study formats, both of which include study guides, practice tests, and some great exam prep tools and materials.
West Virginia P&C License Courses With Agent Broker Training Center
Be sure to take advantage of all the resources, study guides, and practice tests available in whichever course you choose. Register today for one of our P&C courses and get licensed!
Recommended West Virginia P&C Insurance Licensing Courses And Exam Prep Materials
Our property and casualty courses are state-approved and satisfy West Virginia's pre-license education requirements. To find West Virginia property and casualty insurance licensing courses, study guides, sample exams, and other exam prep materials, simply click on any of the recommended courses below or select "Property & Casualty" and your state from the "Licensing" section of the search box below. Good luck passing your West Virginia P&C insurance licensing exam and becoming a West Virginia insurance agent!
Recommended Training Courses:
Online Training Courses
Self-Study Materials
Find Seminars, Webinars, And Online Training In Your Area
How To Become A West Virginia Property And Casualty Insurance Agent
P&C Pre-License Requirements for West Virginia Resident Agents
Before taking your property and casualty insurance license exam, you must complete pre-license education. In West Virginia, persons interested in becoming licensed must complete 20 hours of education for each line of authority that they are pursuing. To take the P&C exam, you must obtain pre-license certificates in both the Property and Casualty lines of authority before taking the exam.
West Virginia P&C Exam Requirements
Once you have completed the pre-license education, you are able to take the exam. Your pre-license certificates are valid for 120 days after you receive them. West Virginia has testing locations in Charleston, Wheeling, Morgantown, Huntington, Hurricane, Moundsville, Keyser, Bridgeport, Martinsburg and Beckley.
To sign up for an exam, you must create an account with Pearson VUE and then make an appointment. Once you have passed the exam, you will need to be fingerprinted. You can schedule this appointment with IdentoGO, and then the State Police and FBI will conduct background checks.
Contact Info: West Virginia Property And Casualty License Requirements
To help with your examination scheduling, we have provided below information on West Virginia licensing requirements, its insurance department, and examination scheduling facilities.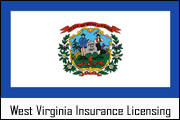 Agent Licensing and Education DivisionAddress:
P.O. Box 50541 | Charleston, West Virginia 25305-0541
Phone:
304.558.0610
Fax:
304.558.4966
Email:
agent.licensing@wvinsurance.gov
Website:
http://www.wvinsurance.gov
Examination SchedulingProvider:
Pearson VUE
Phone:
1.800.274.2614
Website:
http://www.pearsonvue.com/wv/insurance/
Good luck passing your West Virginia P&C insurance licensing exam!
Other Insurance Licensing Courses For West Virginia:
Disclaimer
This information is based on state laws and regulations, and is subject to change. ABTrainingCenter makes every effort to make sure this information is current and accurate, however, ABTrainingCenter is not engaged in rendering legal or professional advice and shall not be held responsible for inaccuracies contained herein.