Maine P&C Insurance Licensing Courses & Exam Prep Materials
Property And Casualty Insurance Courses In Maine
About The Maine Insurance License For Property And Casualty
If you want to sell insurance in Maine, you will need the appropriate Maine insurance license. Specifically, to sell property and casualty insurance, you will need to meet Maine's requirements for the property and casualty insurance license. You will find the requirements for obtaining this license below, including how to get assistance in passing the Maine property and casualty exam with ABTrainingCenter.com.
What A Maine Property And Casualty Insurance License Can Do For You
To be a complete insurance provider in Maine, you need to be able to cover all the major areas of insurance. Life and health are a great start, but they are only half the story. After people protect themselves and their families, they want to protect the assets they have worked so hard to collect. That is where you come in. With your property and casualty insurance license, you are authorized to provide clients with the policies they need for peace of mind when it comes to their homes, properties and other possessions.
Maine P&C License Courses With Agent Broker Training Center
Effectively preparing for a licensing exam when there are no prelicensing requirements can be a tremendous challenge. Fortunately, Agent Broker Training Center can help you meet that challenge. Our Maine property and casualty license courses are comprehensive courses geared toward helping applicants pass their licensing exam as soon as possible. Find the course you need and sign up by clicking the link below.
Recommended Maine P&C Insurance Licensing Courses And Exam Prep Materials
To find Maine property and casualty insurance licensing courses, simply click on any of the recommended courses below or select "Property & Casualty" and your state from the "Licensing" section of the search box below. Good luck passing your Maine P&C insurance licensing exam and becoming a Maine insurance agent!
Recommended Training Courses:
Webinars Or Audio Conferences
Online Training Courses
Find Seminars, Webinars, And Online Training In Your Area
Maine P&C Licensing Info
Property And Casualty Prelicense Maine Requirements For Resident Agents
Maine does not require prelicensing before you take the property and casualty exam. While this can mean getting the license is easier to obtain, it also creates the temptation not to study as hard as you would if you had prelicensing requirements. To avoid this problem, we recommend that you take Maine P&C license courses with Agent Broker Training Center to fully prepare yourself to pass the Maine P&C licensing exam.
Maine Property And Casualty Exam Requirements
The road to getting your property and casualty insurance license starts with studying. Make sure you know the material that will be on this exam inside and out. Once you are ready, schedule an exam with Pearson VUE. There is a $77 fee associated with the exam, which you will pay when you register.
When you arrive at the exam, make sure you have two forms of valid, government-issued photo I.D., such as a driver's license or passport. The combined property and casualty license exam is a 167-question multiple-choice test, and you must score at least 70 percent to pass. Upon being informed that you have passed, you can go to the National Insurance Producer Registry to apply for your license.
Contact Info: Maine Property And Casualty License Requirements
To help with your examination scheduling, we have provided below information on Maine licensing requirements, its insurance department, and examination scheduling facilities.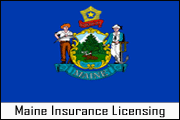 Maine Department of Insurance - Licensing DivisionAddress:
34 State House Station | Augusta, ME 04333-0035
Phone:
207.624.8475
Fax:
207.624.8599
Website:
http://www.maineinsurancereg.org
Examination SchedulingProvider:
Pearson VUE
Phone:
1.800.274.4959
Website:
http://www.pearsonvue.com/me/insurance/
Good luck passing your Maine P&C insurance licensing exam!
Other Insurance Licensing Courses For Maine:
Disclaimer
This information is based on state laws and regulations, and is subject to change. ABTrainingCenter makes every effort to make sure this information is current and accurate, however, ABTrainingCenter is not engaged in rendering legal or professional advice and shall not be held responsible for inaccuracies contained herein.