Virginia P&C Insurance License Classes & Exam Prep Materials
Best-Selling Training Courses:
Instructor-Led: Webinars
Online Training Courses
Property And Casualty Insurance Courses For Virginia
Virginia P&C Insurance Licensing Courses And Exam Prep Materials
Are you looking to get your Property and Casualty Insurance License for the state of Virginia? Interested in learning more about the license and its requirements? Then you have come to the right place!
Agent Broker Training Center provides detailed P&C licensing courses that help to prepare individuals for their upcoming exam.
Why You Should Take A Virginia P&C License Course
In Virginia, unlike in many other states, you are not required to take a pre-licensing course before taking an exam. As such, you may be asking yourself, "If I don't need to enroll in a pre-license course, then why should I?". While it is true that Virginia does not require pre-licensing education for a Property & Casualty license, it is still a good investment to enroll in a course. After all, would you take a chemistry exam in college without reading the chemistry book or attending the professor's lectures.
Keep in mind that Virginia's property and casualty exam is comprehensive, which means it requires adequate preparation, so our detailed courses and helpful study materials will show you the important concepts and help you pass the exam to get your license on the first try.
About Our Virginia P&C License Courses
We offer Virginia property and casualty licensing courses in both online and self-study formats. These courses are designed to get you ready for your license exam and pass it on the first try. One of the reasons our courses are so popular is the fact that they can be taken in a number of different formats, meaning you can complete your instruction in a way that works best for you.
Another benefit of taking one of our courses is that you won't just receive instruction. In addition to the course, you will have access to a number of different study materials as well as helpful exam tips.
Bottom line, our Virginia P&C pre-licensing courses and exam prep materials are delivered in an easy-to-understand manner that provides important insights and valuable exam tips and strategies covering Virginia's rules and regulations for Property and Casualty insurance licensing. You receive:
Both print and online tools that include a comprehensive textbook utilizing short, focused paragraphs with numerous graphics and exercises to help students learn faster and retain critical information
A searchable FAQs database
Exam Tips, Study Calendar, and hundreds of practice exam questions
State Law Supplement that provides the most current state laws and regulations
Videos that can be viewed anytime, anywhere, and as frequently as you like
Instructor email access for help with any tough areas
Use our Virginia property and casualty exam prep materials to test yourself with practice questions and solutions, pinpoint problem areas by building customized exams based on difficulty, length, and topic of your choice, and create online personal notes and bookmarks for future reference.
Recommended Virginia P&C Insurance Licensing Courses And Exam Prep Materials
To find Virginia property and casualty insurance licensing courses, study guides, sample exams, and other exam prep materials, simply click on any of the recommended courses below or select "Property & Casualty" and your state from the "Licensing" section of the search box below. Good luck passing your Virginia P&C insurance licensing exam and becoming a Virginia insurance agent!
Best-Selling Training Courses:
Instructor-Led: Webinars
Online Training Courses
Find Seminars, Webinars, And Online Training In Your Area
How To Become A Virginia Property And Casualty Insurance Agent
Virginia P&C License Requirements
In order to be eligible for a Virginia property and casualty insurance license, you must first pass the exam. You can register for this exam by calling 1-888-204-6272 or online at Pearson VUE. To register for an exam online, you must create an account. You can then find test centers and see when they will be hosting the exams. Currently, there are testing centers in Lynchburg, Glen Allen, Richmond and Roanoke.
Before applying to receive your P&C license, you must contact the Virginia State Police for a Criminal History Record Report. This report is required when you apply for the license and must have been completed within 90 days of your application.
Once you have passed your exam and obtained your report from the State Police, you can submit your application. Resident applications should be filed online through Sircon.
Contact Info: Virginia Property And Casualty License Requirements
To help with your examination scheduling, we have provided below information on Virginia licensing requirements, its insurance department, and examination scheduling facilities.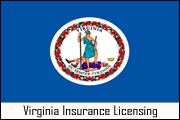 Virginia Bureau of Insurance | Agents Licensing SectionAddress:
P.O. Box 1157 | Richmond, VA 23218
Phone:
804.371.9631
Fax:
804-371-9290
Website:
http://www.scc.virginia.gov
Examination SchedulingProvider:
Pearson VUE
Phone:
1.888.204.6272
Website:
http://www.pearsonvue.com/va/insurance/
Good luck passing your Virginia P&C insurance licensing exam!
Other Insurance Licensing Courses For Virginia:
Disclaimer
This information is based on state laws and regulations, and is subject to change. ABTrainingCenter makes every effort to make sure this information is current and accurate, however, ABTrainingCenter is not engaged in rendering legal or professional advice and shall not be held responsible for inaccuracies contained herein.