Property And Casualty Insurance Courses In Delaware
Best-Selling Training Courses:
Instructor-Led: Webinars
Online Training Courses
Delaware Property and Casualty Insurance Courses
People have property and casualty claims in Delaware every day, and most of them probably want the peace of mind of being covered by the right insurance policy. When you have a Delaware property and casualty insurance license, you can be the one who provides that policy.
Although obtaining a Delaware insurance license for property and casualty policies will take some work, you can do it, especially with the assistance of Delaware P&C license courses from ABTrainingCenter.com.
What A Delaware Property And Casualty Insurance License Can Do For You
Whether you are an independent insurance professional or part of a larger firm, you want to give your clients as much insurance protection as possible. Along with health and life insurance, other major insurance lines are property and casualty. By obtaining the Delaware P&C insurance license, you can offer a full-service insurance practice to your Delaware neighbors. So, what is required to achieve this license?
Delaware Property And Casualty Pre-License Requirements For Resident Agents
Licensing requirements for insurance are governed by the individual state in which you intend to offer policies. Many states have a requirement that you take a property and casualty pre-license course. Delaware is one of the few states that doesn't, so you are able to take the Delaware property and casualty exam without any pre-licensing courses.
However, if you choose to skip Delaware P&C license courses, you may regret it. The No. 1 factor determining whether or not you will pass that licensing exam is the length and breadth of your studying. If you do not take any pre-licensing courses, you will find it very difficult to know if you have studied a sufficient amount and taken in all the required information.
That said, when you have completed your exam-prep courses and feel confident that you are ready to take the exam, you will call Pearson VUE at 800-274-0455 or contact them online. They will have all the information you need to register for the exam.
Delaware Property And Casualty Exam Requirements
Again, there are no pre-licensing requirements for Delaware, so all you need to do is register for the exam and pay the $90 registration fee. When you arrive at the testing site, you will need to have a photo I.D. with a signature as well as one other piece of government-issued identification.
The property insurance exam is a 85-question test that you will have 135 minutes to complete. The casualty exam is a 95-question test that you have 135 minutes to complete. Both tests are multiple choice, and you must achieve a score of 70% to pass.
When you pass the exam, you will get a score report indicating a pass and telling you the next steps to apply for and receive your license. Do not forget to submit your criminal history report within 90 days of applying for your license.
Delaware P&C License Courses With Agent Broker Training Center
ABTrainingCenter provides a range of online courses for insurance licensing as well as comprehensive self-study materials. If you are looking for guidance regarding what to study and how to study in order to pass the Delaware property and casualty exam on the first try, we have it. To get started, just search the available courses below and click on the one that is best for you.
Recommended Pre-Licensing Courses And Exam Prep Materials For Earning Your Delaware Property & Casualty Insurance License
AB Training Center provides approved Delaware Property & Casualty Insurance training and materials for obtaining your DE Property & Casualty Insurance License. We have everything you need to prepare yourself for the Delaware P&C exam. Simply select from the recommended courses below, or search under "Licensing" in the search box thereafter for "Insurance- Property & Casualty". Good luck passing your Delaware P&C insurance licensing exam!
Best-Selling Training Courses:
Instructor-Led: Webinars
Online Training Courses
Find Seminars, Webinars, And Online Training In Your Area
Contact Info: Delaware Property And Casualty License Requirements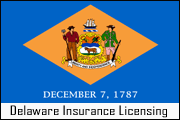 Delaware Department of Insurance - Licensing DivisionAddress:
Rodney Building | 841 Silver Lake Boulevard | Dover, DE 19904
Phone:
302.674.7390
Fax:
302.739.5280
Website:
https://insurance.delaware.gov/wp-content/uploads/sites/15/2017/12/Lic_Proc.pdf
Examination Scheduling
DE examination scheduling is administered by:
Provider:
Pearson VUE
Phone:
1.800.274.0455
Website:
http://www.pearsonvue.com/de/insurance/
Other Insurance Licensing Courses For Delaware:
Disclaimer
This information is based on state laws and regulations, and is subject to change. ABTrainingCenter makes every effort to make sure this information is current and accurate, however, ABTrainingCenter is not engaged in rendering legal or professional advice and shall not be held responsible for inaccuracies contained herein.