Kentucky P&C Insurance License Course, Exam Prep, Study Materials
Best-Selling Training Courses:
Instructor-Led: Webinars
Online Training Courses
Property And Casualty Insurance Courses In Kentucky
About Kentucky Insurance Licensing
The Kentucky property and casualty insurance license designations are some of the most important licenses you can have if you want to sell insurance in Kentucky. To receive your license, you need to fulfill prelicensing requirements and pass the Kentucky property and casualty exam. ABTrainingCenter.com is here to help.
What A Property And Casualty Insurance License In Kentucky Can Do For You
People want insurance for two reasons - to protect themselves and their families, and to protect their property. With a property and casualty insurance license, you can sell these types of policies. When people look to protect their homes, automobiles and other valued assets, they can turn to you to help.
Kentucky P&C License Courses With Agent Broker Training Center
You'll find all the P&C license courses you require through the Agent Broker Training Center by clicking the appropriate link below. We offer fully comprehensive online courses that fulfill your property and casualty prelicensing requirements, including the certification exam. Our courses also fully prepare you to pass the KY licensing exam. If you maximize your use of our course and study materials, you have a great opportunity to pass your Kentucky property and casualty licensing exams on the first try.
Recommended Kentucky P&C Insurance Licensing Courses And Exam Prep Materials
To find Kentucky property and casualty insurance licensing courses, simply click on any of the recommended courses below or select "Property & Casualty" and your state from the "Licensing" section of the search box below. Good luck passing your Kentucky P&C insurance licensing exam and becoming a Kentucky insurance agent!
Best-Selling Training Courses:
Instructor-Led: Webinars
Online Training Courses
Kentucky P&C Licensing Info
Property And Casualty Prelicense Kentucky Requirements For Resident Insurance Agents
Like all states, Kentucky has its own prelicensing rules for property and casualty insurance. You must take 20 hours of prelicensing coursework for each line. You must also demonstrate that you have taken and fully absorbed the information provided in these hours of coursework by taking and passing a certification exam. Like the actual licensing exam, the prelicensing certification requires that you achieve a passing score of 70 percent or greater for certification.
When you successfully complete the coursework as indicated by a passing grade on the exam, you will receive a certificate of completion.
Kentucky Property And Casualty Insurance Exam Requirements
You can start by applying for your property and casualty license with the National Insurance Producer Registry. You will also want to set up an eServices account with the Kentucky Department of Insurance through which you can manage all of your examination information, including exam scheduling.
There is a $50 fee associated with the examination. Show up for the exam with a valid government-issued picture I.D. as well as your certificate of completion. If you get a 70 percent or higher on your licensing exam, you qualify to receive the license.
Contact Info: Kentucky Property And Casualty License Requirements
To help with your examination scheduling, we have provided below information on Kentucky licensing requirements, its insurance department, and examination scheduling facilities.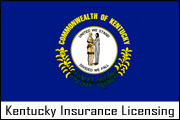 Kentucky Department of Insurance - Licensing DivisionAddress:
215 W. Main Street | P.O. Box 517 | Frankfort, Kentucky 40602-0517
Phone:
502.564.6004
Fax:
502.564.6030
Email:
koiagentlicensingmail@ky.gov
Website:
http://insurance.ky.gov/
Examination SchedulingProvider:
KY Department of Insurance
Phone:
1.502.564.6004
Website:
http://insurance.ky.gov/static_info.aspx?static_id=71&MenuID=33&Div_id=2
Good luck passing your Kentucky P&C insurance licensing exam!
Other Insurance Licensing Courses For Kentucky:
Disclaimer
This information is based on state laws and regulations, and is subject to change. ABTrainingCenter makes every effort to make sure this information is current and accurate, however, ABTrainingCenter is not engaged in rendering legal or professional advice and shall not be held responsible for inaccuracies contained herein.