Arkansas Property & Casualty Insurance License
Best-Selling Training Courses:
Instructor-Led: Webinars
Online Training Courses
Arkansas Property and Casualty Insurance License Courses
Earn an Arkansas Property & Casualty insurance license! TrainingCenter provides property & casualty insurance training courses approved by the Arkansas Department of Insurance for individuals working to become a fully licensed insurance agent in Arkansas.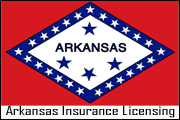 What An Arkansas Property And Casualty Insurance License Can Do For You
Some of the most commonly sought-after insurance policies are life and health and property and casualty. Adding a property and casualty insurance license to your list of certifications could potentially double your pool of possible customers. If you want to offer property and casualty insurance in Arkansas, you need this Arkansas insurance license.
Property And Casualty Licensing Requirements For Resident Agents In Arkansas
Arkansas requires those sitting for the state property and casualty exam to take a property and casualty pre-licensing insurance course. You must then pass a certification exam to prove you have effectively completed the course.
After you pass the certification exam, the next step is to schedule the Arkansas property and casualty insurance license exam. The fee for this exam is $117 and it is administered by Pearson VUE. You can contact them online to register and get a testing date and location.
On the scheduled day, arrive promptly to take the exam. Do not forget to bring your certificate of pre-licensing - they will not allow you to take the test without it. You will also need a valid, government-issued picture ID.
When you have completed the test and been notified of a passing score, you can apply for your property and casualty insurance license by contacting the Arkansas Department of Insurance and submitting your application. Once you receive the license, you are free to offer property and casualty policies in Arkansas.
Arkansas Property And Casualty Licensing Examination Requirements
The Arkansas property and casualty examination is a 150-question exam covering a variety of topics related to property and casualty insurance in general and state insurance law. You will have two and a half hours to complete the exam and must answer 70 percent or more of the questions successfully to receive a passing grade.
Recommended Arkansas P&C License And Exam Prep Training Courses
When it comes to Arkansas P&C license courses, the Agent Broker Training Center has you covered. We offer state-approved P&C pre-licensing courses, as well as the certification exam and certificate you need to take the licensing test. Our method is to provide you with all the information you need and allow you to absorb it according to your own learning style and learning pace. Applying yourself to our study materials will allow you to meet the pre-licensing requirement and give you a great chance of passing the licensing exam the first time around.
To find training, either click on a Recommended Course below, or select "Insurance - Property & Casualty" from the "Licensing" section of the search box below.
Best-Selling Training Courses:
Instructor-Led: Webinars
Online Training Courses
Contact Info: Arkansas Claims Adjuster Licensing Info
Arkansas Department of Insurance - Licensing DivisionAddress:
1200 W 3rd St | Little Rock, AR 72201
Phone:
501.371.2750
Fax:
501.683.2604
Email:
insurance.license@arkansas.gov
Website:
http://insurance.arkansas.gov
Examination FacilityProvider:
Pearson VUE
Phone:
1.888.204.6259
Website:
http://www.asisvcs.com/indhome.asp?CPCAT=1204INS
Other Insurance Licensing Courses For Arkansas:
Disclaimer
This information is based on state laws and regulations, and is subject to change. ABTrainingCenter makes every effort to make sure this information is current and accurate, however, ABTrainingCenter is not engaged in rendering legal or professional advice and shall not be held responsible for inaccuracies contained herein.