New Hampshire P&C Insurance License Exam Prep Courses
New Hampshire Property And Casualty Insurance License Courses
About The Property And Casualty New Hampshire Insurance License
Are you wanting to sell property or casualty insurance in New Hampshire? You'll need a New Hampshire property and casualty insurance license, and at ABTrainingCenter.com, we can help. Here you'll find information about the prelicensing and license exam, as well as links to courses that will help you learn what you need to know and prepare to pass your licensing exam.
What A Property And Casualty License In New Hampshire Can Do For You
Property and casualty can be two of the most lucrative lines of insurance you can offer. Virtually everyone has something to protect, and you can be the one who writes the policy. With a property and casualty license, you will be able to write insurance policies to meet the major needs of many New Hampshire residents.
New Hampshire P&C License Courses With Agent Broker Training Center
Look through the links below to find the right course for you. These courses and materials are designed to fully prepare you to take the property and casualty licensing exam. You'll get practice questions that simulate real test questions along with a wealth of study guides covering everything you are likely to face on the actual test.
Recommended New Hampshire P&C Insurance Licensing Courses And Exam Prep Materials
To find New Hampshire property and casualty insurance licensing courses, simply click on any of the recommended courses below or select "Property & Casualty" and your state from the "Licensing" section of the search box below. Good luck passing your New Hampshire P&C insurance licensing exam and becoming a New Hampshire insurance agent!
Recommended Training Courses:
Online Training Courses
Self-Study Materials
Find Seminars, Webinars, And Online Training In Your Area
How To Become A New Hampshire Property And Casualty Insurance Agent
Property And Casualty Prelicense New Hampshire Requirements For Resident Agents
While New Hampshire doesn't require a pre-licensing course prior to taking the state exam, most people find it difficult to pass the first time without a proper study course.
ABTrainingCenter offers New Hampshire exam-prep courses in both online and self-stdy formats to fit your scheduling needs. Simply select one of the courses above to get started!
New Hampshire Property And Casualty Exam Requirements
Once you're ready to take your exam, you can register with Prometric. If you plan to take the combined property and casualty exam, the fee will be $65. If you are just interested in one line, the fee is $50.
Come to the testing center with a valid government-issued photo I.D., such as a passport or driver's license. Also, make sure you have your certificate of completion with you.
The single property or casualty line is a two-hour, 100-question multiple-choice test. If you are taking the combined property and casualty licensing examination, the test is 100 questions that cover both subject areas, and you will have two and a half hours to complete it. On all of the exams, a score of 70 percent or greater is passing.
Once you know you've passed your exam, you can visit the National Insurance Producer Registry online to apply for your license.
Contact Info: New Hampshire Property And Casualty License Requirements
To help with your examination scheduling, we have provided below information on New Hampshire licensing requirements, its insurance department, and examination scheduling facilities.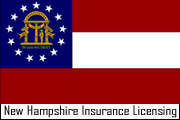 New Hampshire Department of Insurance - Licensing DivisionAddress:
21 South Fruit St. Suite 14 | Concord, NH 03301
Phone:
603.271.0203
Fax:
603.271.7029
Website:
http://www.state.nh.us/insurance
Examination SchedulingProvider:
Prometric
Phone:
1.800.869.6603
Website:
http://www.prometric.com/NewHampshire/Insurance.htm
Good luck passing your New Hampshire P&C insurance licensing exam!
Other Insurance Licensing Courses For New Hampshire:
Disclaimer
This information is based on state laws and regulations, and is subject to change. ABTrainingCenter makes every effort to make sure this information is current and accurate, however, ABTrainingCenter is not engaged in rendering legal or professional advice and shall not be held responsible for inaccuracies contained herein.