Basic Accounting Skills for the Business Professional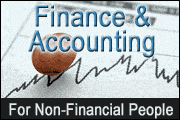 Seminar: ID# 1003643
Pricing: $199.00
About This Course:
Finance And Accounting Made Easy
Where are they getting those numbers? If you've ever asked that question, you're not alone.
Thousands of non-financial people:
Feel uncomfortable in discussions with financial and accounting specialists
Don't fully understand financial terminology "buzz words"
Don't effectively use budgets, balance sheets, P&L statements, and other financial data
As a non-financial person, your actions and decisions affect the financial picture. But, if you're making those decisions without a solid knowledge of finance and accounting, you're operating in the dark.
This one-day seminar was developed to meet the specific needs of non-financial people like you. You'll learn the basics of accounting and finance in easy-to-understand layman's terms. What's more, you'll learn how to apply and use the information to operate more efficiently and successfully.
We cover all of the essential elements of finance and accounting in one fast-paced, well-designed day. And, our extensively tested adult learning methods will have you participating and interacting - you'll be on the edge of your seat - not slumped down in it!
Continuing Education Credits:

Click the 'Credits' tab above for information on PHR/SPHR, PDCs, and other CE credits offered by taking this course.