IT Auditing And Controls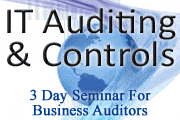 Seminar: ID# 1003293
About This Course:
This intensive, three-day seminar outlines the concepts of information technology you need to know in order to understand the audit concerns in the IT environment.
You will learn the necessary controls for application systems - the session pinpoints specific controls to evaluate when auditing currently installed systems, new systems under development, and the various activities within the information technology department.
In addition, you will learn techniques for auditing automated systems and examine the impact of Sarbanes-Oxley on IT audit.
You will leave this session with a solid foundation in the basics of information technology as they apply to audit and security concerns. (Note: This seminar covers topics found in Chapters 1, 4, 5, and 6 of the CISA Review Manual)
Overview Of The Agenda
Below is a partial listing of this course's agenda. Please click the "Agenda" tab at the top of this page to view the complete agenda.
Planning IT Audits
IT Basics
Planning The IT Audit
Audit & Control Frameworks and Standards
Database Technology and Controls
Network Technology and Controls
IT Governance
IT General Controls
Business Application Controls
Bonus:
You will receive a copy of MIS' Information Technology & Audit Acronym Dictionary, defining hundreds of IT terms and acronyms.
Dates & Times:
Classes start on the date(s) posted herein, and run from 8:30am to 5pm daily, except for the last day of class, which ends at 3pm.
Order:
IT Auditing And Controls
Price: $2,195.00
To order this product, find a location and date that is convenient for you under the "
Cities & Dates
" tab.