Are You Preparing To Take Your Series 62 Test?

Then you've come to the right place!

By taking and passing the NASD Series 62 test, you will be qualified by the Financial Industry Regulatory Authority (FINRA), previously the National Association of Securities Dealers (NASD), as a Corporate Securities Limited Representative. The Series 62 exam covers the following major topics: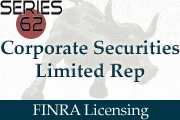 Types & Characteristics of Securities & Investments

The Market for Corporate Securities

Evaluation of Securities & Investments

Handling Customer Accounts & Securities Industry Regulations
The NASD Series 62 exam is a 115-question, multiple choice test. You must receive 70% or higher in order to receive your Series 62 license. It is suggested that you study your Series 62 test prep materials for 4-6 weeks before sitting for the exam.

To assist with your studies, ABTrainingCenter.com offers NASD Series 62 test prep training.


Available Training Options for Series 62 Test

To find Series 62 training, simply click on any of the recommended courses below, or search under "Licensing" in the search box thereafter for "Series 62".

Good luck with your NASD Series 62 license!