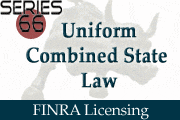 Searching For Series 66 Review Classes?

Then you've come to the right place!

As busy professionals, we understand your time is valuable, and finding spare time to study for the Series 66 exam can be quite daunting. So we're here to help.

At AB Training Center, we offer live Series 66 review classes, as well as online and self-study Series 66 training exam materials for individuals seeking to obtain comprehensive training for Series 66. By offering numerous study formats, you are sure to find Series 66 training classes to fit your personal needs.


---
SERIES 66 TRAINING
---

Live Classroom Review Package:

Our live training classes are designed for those who are training for Series 66 and desire maximum student/teacher interaction. The intensive 2-day review class, combined with the suggested 50-60 hours of self-study, is sure to help you pass the Series 66...the first time! Live Series 66 training classes are offered in most major metropolitan areas across the US. For complete details and locations, click the link below.
Live and OnDemand Online Review Class:

This virtual online training class provides the same structure and format as our live classroom course. The only difference is that you attend the course from the comfort of your home or office, and the presentation can be accessed in both live and recorded versions. This Series 66 online course also allows you to ask questions and receive answers from your instructor in real time. Click below for details and available dates.
OnDemand Online Review:

Our Series 66 OnDemand Online Review course allows you to view the entire course from beginning to end, as streaming video, offering you the same high level of instruction you would expect from a live class. The difference is that you can follow the course at your leisure - anytime, anywhere, and as often as you like. If you are training for Series 66 and work/live on a tight schedule, this is the course for you!
Self-Study Training Package:

If live or online Series 66 review classes don't fit your needs or capabilities, then try our comprehensive Series 66 review home study class package. No internet connection is needed. We simply mail the study materials to you, and the rest is up to you. This concise self-study format provides users with the simplest steps to Series 66 success.



---
OTHER TRAINING FOR SERIES 66
---

In addition to the recommended courses listed above, we offer other training for Series 66. Select from the recommended Series 65 review classes below, or simply search under "Licensing" in the search box below and select "Series 66" from the subject menu, select your state, and click "Go!".