HR On-Demand HR Webinars, Webcast, and Audio Conferences
Listed below are On-Demand webinars and audio presentations. All have run within the last six months, so all are up-to-date and timely.
FMLA Training & Certification Program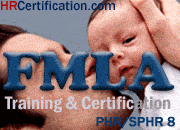 Learn The FMLA Rules And Requirements!

Want to know more about the Family Medical Leave Act and receive the Certified FMLA Administrator designation? Enroll in the FMLA Training & Certification Program to earn your FMLA certification and become the FMLA expert in your office.
Return-To-Work Strategies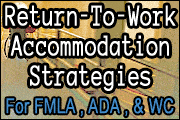 Learn how to have an organized, simple, and documented assessment process to accommodate returning employees to work who have not fully recovered from occupational injuries.
Available Versions:
Recorded. Available via CD, On-Demand
Successful Strategies For Running An 'HR Department Of One'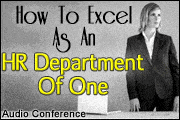 This audio conference will assist the one person HR department in making a plan to prioritize the operational, compliance, and people needs of the business.
Available Versions:
Live on: 12/18/2018. Also available via CD, On-Demand
Looking for live events? Check out our webinar calendar and seminar calendar.
Find Seminars, Webinars, And Online Training In Your Area