If you're trying to get your Series 3 license to sell contracts or options on futures, you're in the right place. AB Training Center offers some of the highest quality and comprehensive courses on securities license exams.
Our Series 3 exam prep course is considered one of the best we offer. Our pass rate is among the highest of any training course and our students highly recommend us. What are you waiting for? Enroll in our Series 3 license exam training course today.
Click Here to Enroll or Find Out More on This Course
To find training for earning your Series 3 license, simply click on any of the recommended courses below, or search under "Licensing" in the search box thereafter for "Series 3″. Good luck earning your Series 3 license!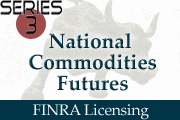 Recommended In-Person Seminars
Recommended Online Training Courses
Recommended Books/CDs/Other Training Resources