Searching for CPCU training? Then you've come to the right place!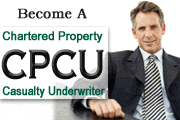 ABTrainingCenter.com offers CPCU training and CPCU certification courses for those individuals interested in earning the prestigious Chartered Property Casualty Underwriter (CPCU) designation.

CPCU designees gain a broad understanding of property-casualty insurance, plus they have the option to choose either a commercial or personal risk management insurance concentration during their pursuit of the designation.


Curriculum

To earn the CPCU designation, an individual must pass a minimum of eight of the eleven courses listed below (the four foundation courses, one elective course, plus three courses from either the Personal or the Commercial concentration).

Foundation Courses
CPCU 500 Foundations of Risk Management and Insurance

CPCU 520 Insurance Operations

CPCU 530 Business Law For Insurance Professionals

CPCU 540 Finance And Accounting For Insurance Professionals
Commercial Lines Concentration
CPCU 551 Commercial Property Risk Management and Insurance

CPCU 552 Commercial Liability Risk Management and Insurance

CPCU 553 Survey of Personal Insurance And Financial Planning
Personal Lines Concentration
CPCU 555 Personal Risk Management and Property-Casualty Insurance

CPCU 556 Financial Planning

CPCU 557 Survey Of Commercial Insurance
Elective Courses
AAI 83 Agency Operations and Sales Management

AIC 31 Property Claims Practices

AIC 32 Liability Claims Practices

ARe 144 Reinsurance Principles and Practices

ARM 56 Risk Financing

AU 67 Strategic Underwriting Techniques

CPCU 560 Financial Services Institutions

ERM 57 Enterprise Risk Management

AAI 87 Agency Leadership and Strategic Alignment

AIC 47 Claims Leadership and Organizational Alignment
Ethics Requirement

Those pursuing the CPCU designation must pass the 50-question exam in the free Ethics and the CPCU Code of Professional Conduct online module (Ethics 312). You have a 90-day access to Ethics and the CPCU Code of Professional Conduct when you register.

Additionally, the CPCU Code of Professional Ethics is the standard by which your ethical behavior as a candidate or CPCU designee is measured. You are subject to the Code once you sign the matriculation form, and you continue to be subject to it throughout your candidacy and after receiving the CPCU designation.


Experience Requirements

You must submit a resume showing that you were engaged in acceptable insurance activities for any 24 months (minimum of 17 hours per week) during the five-year period immediately preceding the conferment of the CPCU designation. See the matriculation form for specific requirements. If you meet all requirements except the experience requirement, the designation will be conferred when you meet it.


Recommended Courses & Available Training Options

ABTrainingCenter.com offers multiple courses for earning the CPCU designation.

Either select from the recommended courses below or for a complete listing, simply search under "Designations/Certifications" in the search box below for "CPCU - Chartered Property Casualty Underwriter".