Series 63 License / Series 63 Licensing Courses
Earn Your Series 63 License!
Searching for Series 6 and 63 license training and help passing your upcoming Series 6 or 63 exam? Then you've come to the right place!
ABTrainingCenter.com offers Series 6 and 63 securities licenses courses in a variety of formats, including online Series 63 license training, Self-study Series 63 courses, CDs, and other Series 63 exam prep materials to help individuals pass the Series 63 exam on the first try.
What Is A Series 63 License?
A Series 63 Uniform Securities Agent State Law license qualifies individuals to sell securities across state lines. The examination covers the principles of state securities regulation reflected in the Uniform Securities Act; these laws are sometimes called "Blue Sky" laws. The Series 63 examination is a national test and does not vary by state. Administered by NASAA, The North American Securities Administrators, the exam consists of 60 questions, and must be completed within 75 minutes. A score of 72% or higher is required to pass the exam.
Series 63 License Requirements / How To Earn Your Series 63 License
Before you schedule your exam, you must first choose the best method of Series 63 exam prep. AB Training Center offers Series 63 exam prep classes and Series 63 online courses to assist with your studies that will focus on content that conforms to the Series 63 exam requirements. Click below for our most popular Series 6 and 63 licenses training classes.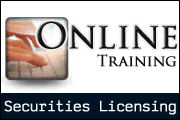 Prior knowledge or sponsorship is not required to for exam prep. However, to sit for the Series 63 exam, a candidate must be sponsored by a member of FINRA or a Self-Regulatory Organization (SRO). Students may take as many prep courses as needed, but sponsorship is mandatory to schedule and sit for the exam.
If searching for a position, then it would be to your advantage to list "Studying for Series 63 exam" on a resume to enhance the viability of an employment application. In addition to the sponsorship requirement, candidates must pass a background check and furnish fingerprints. Exams are given throughout the year; a passing score is 72 percent or better.
Find Series 6 and 63 License And Exam Training Courses And Local Prep Classes
AB Training Center offers online training in many formats. Students can access OnDemand review classes, CDs, courses for self-study, and general preparatory information for earning your Series 63 license and enhancing your career and knowledge of the industry.
To find training for earning your Series 63 license, simply click on any of the recommended courses below, or search under "Licensing" in the search box thereafter for "Series 63".
Good luck with your Series 63 Exam prep and earning your Series 6, 7, or 63 licenses!
Recommended Training Courses: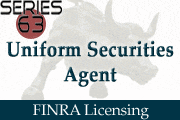 Online Training Courses
Find Seminars, Webinars, And Online Training In Your Area
Related Links
AB Training Center offers a number of FINRA securities licensing courses and information on successfully passing your exams, including: