Series 66 License
Earn a FINRA Series 66 License!
Searching for Series 66 classes and needing help passing your FINRA Series 66 exam? Then you've come to the right place!
A Series 66 Uniform Combined State Law license qualifies an individual to be both an "agent" of a broker/dealer and an "investment adviser" representative in each state.
ABTrainingCenter.com offers FINRA Series 66 License training courses in a variety of formats, including live Series 66 classes, online Series 66 license training, Series 66 study manuals, and other exam prep materials to help individuals pass the Series 66 exam and earn a Series 66 license.
Recommended Series 66 License Training Courses & Available Series 66 Classes
To find training for earning your FINRA Series 66 license, simply click on any of the recommended courses below, or search under "Licensing" in the search box thereafter for "Series 66".
Good luck with your Series 66 classes!
Recommended Training Courses: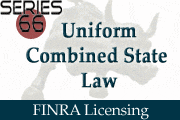 In-Person Seminars
Webinars Or Audio Conferences
Online Training Courses
Books/CDs/Other Training Resources
Find Seminars, Webinars, And Online Training In Your Area

Looking For Other Securities Licensing Courses?

AB Training Center offers a number of FINRA / securities licensing courses and/or information on successfully passing your exams, including: