Series 24 License
About The Series 24 License
Searching for Series 24 training and help passing your Series 24 exam? Then you've come to the right place!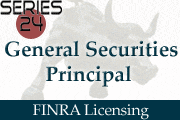 What Is A Series 24 License?

The Series 24 license is known formally as the General Securities Principal license and is a FINRA requirement for those wishing to register as general securities principals in order to manage or supervise investment banking or securities business for corporate securities, direct participation programs, and investment company products/variable contracts.
Recommended Series 24 Licensing Courses & Available Training Options
ABTrainingCenter.com offers online Series 24 training, in-person Series 24 seminars, Series 24 books, CDs, and other Series 24 training materials to help individuals pass the Series 24 exam and earn a Series 24 license.

To find training for earning your Series 24 license, simply click on any of the recommended courses below, or search under "Licensing/Designations" in the search box thereafter for "Series 24". Good luck earning your Series 24 license!
Recommended Training Courses:
In-Person Seminars
Webinars Or Audio Conferences
Online Training Courses
Books/CDs/Other Training Resources
Find Seminars, Webinars, And Online Training In Your Area

Looking For Other Securities Licensing Courses?

AB Training Center offers a number of FINRA / securities licensing courses and/or information on successfully passing your exams, including:
Related Links

Series 24 Exam, Series 24 Principal License
Share on Facebook
Share on Twitter