Tennessee Insurance Adjuster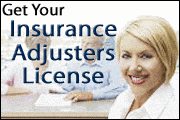 The state of Tennessee only requires a license to become a Public Adjuster.
Tennessee residents interested in independent catastrophe adjusting should consider obtaining a non-resident Texas or Florida adjuster license.
For more information on becoming an Insurance Adjuster, contact the Tennessee Insurance Department:

Tennessee Department of Insurance - Licensing Division
Address: Davy Crockett Tower | 500 James Robertson Parkway | Nashville, TN 37243-1134
Phone: 615.741.2693
Website: http://www.tennessee.gov/commerce/index.shtml
---
Recommended Courses and Available Tennessee Adjuster Training
---

AB Training Center provides TN Adjuster training and materials needed to obtain your Tennessee Public Adjuster License. We also offer courses for those interested in catastrophe adjusting . Simply select from the recommended courses below.