Alaska Insurance Adjuster License
Best-Selling Training Courses:
Instructor-Led: Webinars
Get Your Alaska Insurance Adjuster License!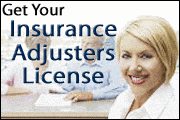 Becoming an Alaska Claims Adjuster can be an appealing profession that can be quite lucrative. But before you can begin working as an Insurance Adjuster, you must first obtain your Alaska Insurance Adjuster License.
Why Should I Pursue An Adjuster License In Alaska?
If you want to be involved in the insurance world but don't have the time or money to invest in all the education and training that becoming a licensed insurance agent requires, the job of insurance claims adjuster could be a great one for you.
Insurance claims adjusters are at the front lines of the insurance game. They are the ones who are the first to head out when a claim is made. They interview witnesses, assess damage and perform a variety of other investigative functions. The insurance company is extremely reliant on the claims adjuster to make sure they accurately pay out the right amount on claims.
If you can pass the Alaska insurance adjuster licensing exam and meet the other basic requirements, you can enjoy a well-paying and rewarding career in the insurance business.
What Is On The Alaska Insurance Adjuster Exam?
While there are no AK Claims Adjuster license pre-licensing requirements, you are required to take and pass the Alaska Insurance Adjuster's exam. You can expect 80 questions on the exam and will have 90 minutes to complete it.
The material covers just about every area of insurance, including such topics as:
Property and Casualty Insurance Basics
Adjusting Losses
Dwelling and Homeowners Policies
Auto Insurance
Commercial Package Policies
Businessowners Policy
Other Types of Property and Liability Policies
Applicable state regulations
Because an insurance agency may send an adjuster out to investigate just about any type of claim, those adjusters have to be versed in the basics of all types of insurance.
How Can I Study For An Alaska Insurance Adjuster License?
Agent Broker Training Center has the best claims adjuster training for Alaska candidates. Our Alaska adjuster license courses provide a comprehensive explanation of the material you will see on the Alaska insurance adjuster exam. We deliver that information according to how you want to receive it. We are famous for offering our courses through multiple media outlets to best serve our students.
We have online courses for those who like to study on their own schedule and at their own pace. Getting ready for your Alaska insurance adjuster license exam with one of our courses can drastically improve your chances of passing the exam the first time.
Alaska Adjuster License Requirements
The requirements for becoming an AK Claims Adjuster are:
AK residents or residents of other states that do not have a licensing requirement must pass the AK state exam administered by Pearson Vue Testing Centers

All Independent adjusters must have six months working experience within the last two years

Submit fingerprints and undergo basic background check

24 hours Continuing Education (CE) required every 2 years for residents / No CE required for non-residents
Non-Resident Alaska Insurance Adjuster License
Non-resident applicants for an AK Adjuster License must submit an application. Please visit the
National Insurance Producer Registry
for more information on Alaska non-resident licensing.
Alaska grants reciprocity to adjusters holding an adjuster license from their home state. However, if your home state does not require a license, you must successfully pass the Alaska state adjuster exam.
Alaska Department of InsuranceAddress:
9th Floor State Office Bldg | 333 Willoughby Avenue | P.O. Box 110805 | Juneau, AK 98811-0805
Phone:
907.269.7900
Website:
https://www.commerce.alaska.gov/web/ins/Producers.aspx
Recommended Alaska Claims Adjuster Training Courses
Once you earn your license, you'll need help with the computer programs used to determine claim estimates. To assist with this need, we have included below a link to our Xactimate training course, which is the leading claims software program in the country.
Best-Selling Training Courses:
Instructor-Led: Webinars
Other Insurance Licensing Courses For Alaska
Disclaimer
This information is based on state laws and regulations, and is subject to change. ABTrainingCenter makes every effort to make sure this information is current and accurate, however, ABTrainingCenter is not engaged in rendering legal or professional advice and shall not be held responsible for inaccuracies contained herein.