Sell More Annuities!
Searching for Annuity sales training courses? Then you've come to the right place!
ABTrainingCenter.com provides extensive training for annuities, including courses for basic and advanced annuity training, variable annuity training, fixed annuities training, and equity index annuities training in a variety of training formats and focus levels.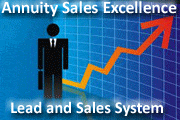 For instance, we offer the following training formats for annuities: online annuity training, in-person annuity seminars or workshops, or annuity webcasts, webinars, or audio conferences.
We even offer courses on selling annuities designed to help increase your annuity sales!
Recommended Annuity Training Options
So if you are looking to learn annuity sales tips and general information - what they are, tax benefits, suitability concerns, etc. - or how to market/sell them more effectively, you'll find a designation program, continuing education or other annuity training course to suit your needs!
Simply choose one of the recommended selections below, or look in the search box thereafter for "Annuities" under "Professional Development", or "Insurance - Life & Health" under "Continuing Education".