Arizona Insurance Adjuster License
Best-Selling Training Courses:
Online Training Courses
Instructor-Led: Webinars
Get Your Arizona Insurance Adjuster License!
Becoming a Arizona Claims Adjuster can be an appealing profession that can be quite lucrative. But before you can begin working as an Insurance Adjuster, you must first obtain your AZ Insurance Adjuster License.
Why Do I Need An Adjuster License In Arizona?
If you wish to become an Arizona insurance adjuster, you will need an Arizona insurance adjuster license. Why might you want to become an insurance claims adjuster? As an insurance adjuster, you get all the excitement and financial benefits of working in the insurance industry without the time-consuming and expensive education and training requirements of becoming a licensed agent.
As an insurance claims adjuster, you get to be in the middle of the action, visiting the sites of claims and determining just how liable your company is. You get to interview witnesses, examine scenes and do research, all in the name of making sure your company pays out a fair settlement. It can be very rewarding and well-paying work, and it starts with getting that license.
What Is On The Arizona Insurance Adjuster Exam?
The Arizona licensing exam for insurance adjusters is specific to Arizona but covers similar topics as other state adjuster licensing exams, such as:
Property and Casualty Insurance Basics
Adjusting Losses
Dwelling and Homeowners Policies
Auto Insurance
Commercial Package Policies
Businessowners Policy
Other Types of Property and Liability Policies
How Do I Study For The Exam?
You'll find all the Arizona adjuster license courses you need with Agent Broker Training Center. We are the premier source for claims adjuster training in Arizona. We know everything that is likely to appear on the exam, and we know how to communicate the information in a clear, concise way.
We offer online insurance adjuster training so you can learn when, where and how you want. We also offer training on Xactimate software, the program that has become standard for calculating insurance claims in Arizona and throughout the United States. Let Agent Broker Training Center help make sure you're prepared to pass the licensing exam the first time around.
Arizona Adjuster License Requirements
18 years of age or older

Pass the AZ state exam administered by Prometric Testing Centers

Complete the Arizona Insurance Adjuster License application and submit with $120 application fee

Submit fingerprints and undergo basic background check

No Continuing Education is required
Recommended Arizona Claims Adjuster License Training Courses
AB Training Center provides approved AZ Adjuster training and materials needed to obtain your Arizona Insurance Adjuster License. We have everything you need to prepare yourself for the Arizona Claims Adjuster exam. Simply select from the recommended courses below, or search under "Licensing" in the search box thereafter for "Insurance-Adjusters".
And to help your career, we have included below a link to our Xactimate training course, which is the leading claims software program in the country.
Best-Selling Training Courses:
Online Training Courses
Instructor-Led: Webinars
Contact Info: Arizona Claims Adjuster License Requirements
Arizona Department of Insurance - Licensing Division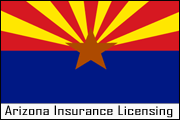 Address:
100 North 15th Avenue, Suite 102 | Phoenix, AZ 85007-2624
Phone:
602.364.4457
Website:
https://insurance.az.gov/producers/adjuster
Non-Resident Arizona Insurance Adjuster License
Non-resident applicants for a AZ Adjuster License must submit an application. Please visit the
National Insurance Producer Registry
for more information on Arizona non-resident licensing.
Other Insurance Licensing Courses For Arizona:
Disclaimer
This information is based on state laws and regulations, and is subject to change. ABTrainingCenter makes every effort to make sure this information is current and accurate, however, ABTrainingCenter is not engaged in rendering legal or professional advice and shall not be held responsible for inaccuracies contained herein.