Become A Chartered Alternative Investment Analyst!
Searching for CAIA training? Then you've come to the right place!

Why Pursue the CAIA Designation?

Employers and clients alike will demand experienced, trustworthy professionals with working knowledge of the Alternative Investment industry. The CAIA designation is recognized globally as the benchmark for analysis, application, and standards of practice in the alternative investment arena.

The Chartered Alternative Investment Analyst designation is meant for financial professionals who will be working primarily in the alternative investment space. This usually means people working for hedge funds and private equity, although a CAIA designation is also useful to people working for traditional financial institutions in non-traditional roles, like those managing the derivatives book or the trading desk.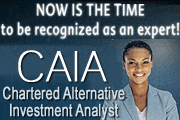 What Does A CAIA Do?
CAIA designees have met the educational standard for specialists in the area of alternative investments. The alternative investments that a Chartered Alternative Investment Analyst is trained to assess include hedge funds, venture capital, private equity, funds of funds, derivatives and real estate investments.
Curriculum
Candidates must pass an examination for the following courses to achieve CAIA Certification:
CAIA Level I

CAIA Level II
Average study time is 150-200 hours for Level I and 200 or more for Level II.
Recommended Courses & Available Training Options For Earning Your Chartered Alternative Investment Analyst Designation
ABTrainingCenter.com offers CAIA training and certification courses for those individuals who are interested in earning the prestigious Chartered Alternative Investment Analyst (CAIA) designation.

Simply select any of the recommended courses below, or search under "Designations/Certifications" in the search box thereafter for "CAIA - Chartered Alternative Investment Analyst".