Earn Your California Life and Health License With Our California L&H Exam Prep Materials!
AB Training Center provides California Insurance Exam Training for individuals who wish to earn a California Life and Health License. We offer in-person classes and online training courses to satisfy the pre-licensing requirement for the state of CA.
California Life and Health Licensing Examination Requirements
Below are the CA L&H insurance pre-licensing requirements:
General Requirements
The application process for an agent license does not require sponsorship by an insurer

Candidates for an insurance license must be 18 years of age or older

California residency is not required

Submit fingerprints and undergo basic background check

Candidates must complete an approved California pre-licensing course; This requirement may be met in either a Classroom or Online format; 12 hours of Ethics is required for all licenses

Candidates must pass the required examination for licensure within 3 years of the completion of the prelicensing course
Life, Accident & Health License
Candidates who hold another insurance license or have previously completed the Ethics 12-hour requirement may complete the California 40-hour Life and Health Classroom, or Online prelicensing course

Prelicensing Course Exemption - Applicants who hold the Chartered Life Underwriter (CLU) or LUTCF designations are exempt
California Life and Health Licensing Examination Requirements
For the Life Insurance license in California, your exam will be 75 questions, and you will have 90 minutes to complete it. Chapters include:
General Insurance
Basic Insurance Concepts and Principles
Contract Law
The Insurance Marketplace
Life Insurance
Life Insurance - Basics
Types of Life Policies
Annuities
Life Insurance and Annuities – Policy Replacement
The Individual Life Insurance Contract
Taxation of Life Insurance and Annuities
Group Life Insurance Plans
Social Security Disability Program
Social Security Disability Program
Individual Underwriting, Pricing, and Claims
Life Policy Riders
For the exam for the Accident and Health Insurance license in California, you will also have 90 minutes for 75 questions on subjects such as:
General Insurance
Basic Insurance Concepts and Principles
Contract Law
The Insurance Marketplace
General Concepts of Medical and Disability Insurance
Medical Expense Insurance
Individual Insurance
Group Medical Expense Insurance
Patient Protection and Affordable Care Act (PPACA)
Senior Health Products
Disability Income Insurance
Long-Term Care Insurance
You are required to get at least 60% of the questions correct for a passing score. Our life and health insurance courses in California can dramatically improve your chances of exceeding this score.
Recommended CA Life And Health Insurance Courses And Exam Prep Materials
To find CA Life and Health insurance licensing courses and exam prep materials, simply click on any of the recommended courses below or select "California" and your state from the "Licensing" section of the search box below.
Find Seminars, Webinars, And Online Training In Your Area
Contact Information - California Insurance Licensing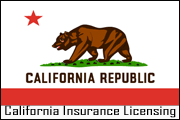 California Department of InsuranceAddress:
P.O. Box 1139 | Sacramento, CA 95812-1139
Phone:
800.967.9331
Fax:
916.327.6907
Email:
license.bureau@insurance.ca.gov
Website:
http://www.insurance.ca.gov
Examination FacilityProvider:
PSI Exams
Phone:
1.800.733.9267
Website:
https://candidate.psiexams.com/catalog/displayagencylicenses.jsp?catalogID=337
Education Requirements For A CA Life And Health License

In the state of California, you must complete 52 hours of pre-licensing education prior to sitting for the state exam. This includes 40 hours for Life and Health, and 12 hours of Ethics.

To earn the license, you simply need to choose your preferred pre-licensing course from the list below. Once you have successfully completed the course, you will receive a certificate of completion. That certificate is what you need to be able to schedule and sit for your state exam. To schedule your state exam, you will contact PSI Exam testing centers (1-800-967-9331) to find a location near you. Please note that it is suggested that you register at least two weeks in advance.

If you prefer, after you have completed your pre-licensing life and health insurance courses in California, you can contact PSI Exams online to schedule your test.

Before you take your exam, you must submit to fingerprinting and a background check. A technician on-site will do this for a $68.95 fee. If you are taking your exam at a CDI rather than a PSI site, you will have your background check performed by Accurate Biometrics for a $59 fee.

Make sure you bring a valid form of government-issued picture ID along with your certificate of California life and health pre-licensing course completion or you will not be permitted to sit for the exam.

After your pass the exam, you will receive a 12-digit ID number that you will use to apply for the license using the Fast Licensing Application Service, or FLASH, online. Learn more about this procedure here.
Other Insurance Licensing Courses For California:






Disclaimer

This information is based on state laws and regulations, and is subject to change. ABTrainingCenter makes every effort to make sure this information is current and accurate, however, ABTrainingCenter is not engaged in rendering legal or professional advice and shall not be held responsible for inaccuracies contained herein.