California Securities Licensing

AB Training Center has several courses available in securities training for those needing to obtain their Series 6, 7, or 63 license in California.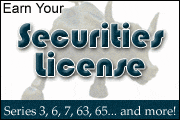 We offer courses in a variety of formats including self-study, online training, and seminars. All of our courses have been designed to help you prepare for the exams developed by the North American Securities Administrators Association (NASAA). These exams can last up to six hours, and one might feel intimidated by the large test.

By taking our courses, you will gain the education and the confidence you need in order to pass with flying colors. Each one of our courses comes with a huge array of materials that can be suited to your individual needs.

Nearly as vast as the state's size, is California's economy. Tourism is the largest contributor with millions of people visiting each year to see Hollywood, catch a glimpse of the rich and famous, and to see the beautiful vineyards. There's no shortage of tourists, and no shortage of any industry in the state. Aside from tourism, agriculture, trade, and commerce are also big contributors to California's economy.

There is also a large number of Fortune 500 companies and the median income is at a continual rise. With all of these businesses, seeking a Series 6, 7, and/or 63 licensure or designation has become a growing trend. At AB Training Center, we currently offer courses in Anaheim, Bakersfield, Fresno, Los Angeles, San Fransisco, and their surrounding areas. Please contact us today to discover all of the courses we have available.

Find California Securities Training

To find Series 7, Series 6, or Series 63 exam training in California, either click a Recommended Course below or use the search box. Good luck on your exam!