Certificate Program In FMLA & ADA Compliance ™
Seminar: ID# 1256941
This course is available in both in-person and video conference formats.

Simply select your desired date below for practical tools, tips, and techniques you need to effectively manage your FMLA and ADA compliance responsibilities.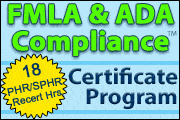 Upcoming Seminars:
takes place on three consecutive days, unless noted with an asterics (*)
Sorry, but this seminar is fully booked.
Click here
to find other venues/dates for this seminar.
Qty: 2 - Qty: 5
$20.00
$2,375.00
Qty: 6 - Qty: 10
$60.00
$2,335.00
Need training or resources in other areas? Try our other Training Center sites: