Colorado Securities Licensing

AB Training provides securities training in the state of Colorado for obtaining a Series 6, 7, or 63 license.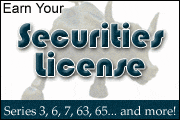 This training is offered in a number of courses and is administered through self-study, seminars, and online training.

No matter how busy your schedule is, we have the perfect courses for you and your specific needs. All of our courses are designed to help you prepare for the exams developed by the North American Securities Administrators Association (NASAA). By taking one or all of our courses, you will obtain the amount of education and confidence you need in order to pass these exams and move on into a successful career path.

Colorado is one of the most beautiful states in the country with its breathtaking views of the Rocky Mountains and even the Great Plains. Tourists, campers, and nature lovers visit the state each year to quench their thirst for adventure. Along with tourism, industry, agriculture, and the federal government are also big contributors to the state's economy. Colorado also have a large amount of big cities with equally large companies. This is the place to be for those seeking a licensure of designation for a Series 6, 7, 63 or more.

At AB Training Center, we currently have a huge selection of courses available in Centennial, Colorado Springs, Denver, Lakewood, Pueblo, and more. Contact us today to find out all about our great deals.

Find Colorado Series 6, 7, and 63 Training Courses

To find Series 7, Series 6, or Series 63 exam training in Colorado, either click a Recommended Course below or use the search box. Good luck on your exam!