Connecticut Insurance Adjuster License
Get Your Connecticut Insurance Adjuster License With Our CT Pre-Licensing Courses And Exam Prep Materials!
Becoming a Connecticut Claims Adjuster can be an appealing profession that can be quite lucrative. But before you can begin working as an Insurance Adjuster, you must first obtain your CT Insurance Adjuster License.
Why Should I Pursue an Adjuster License In Connecticut?
Some people feel that insurance claims adjusting is the most exciting job in the entire insurance field. As an insurance claims adjuster, you'll be sent out time after time to the site of a claim to get to the bottom of the situation and find out whether the claim has merit and how much. As the eyes of the insurance company, you'll enjoy the responsibility of having an entire company relying on your judgment, and probably enjoy the financial rewards that go with that responsibility.
What Is On The Connecticut Insurance Adjuster Exam?
Most people seeking a Connecticut insurance adjuster license will want an all-lines license, because most insurance companies will want an insurance adjuster they can send out to investigate any claim. If you know you will be working for a company that only deals with auto insurance, for example, you might pursue an auto-only adjuster license. However, in most cases, you will want a broader license. You can expect exam questions on just about any insurance topic, including:
Property and Casualty Insurance Basics
Adjusting Losses
Dwelling and Homeowners Policies
Auto Insurance
Commercial Package Policies
Businessowners Policy
Other Types of Property and Liability Policies
Applicable state regulations
How Can I Prepare For A Connecticut Insurance Adjuster License And Become A CT Claims Adjuster?
Agent Broker Training Center has you covered when it comes to claims adjuster training in Connecticut. We have Connecticut adjuster license courses for all-lines licenses, auto only licenses and even no workers compensation licenses. Whichever you choose, you can be sure we will provide you with all the information you need to pass your licensing exam, presented in such a way as to give you the best chance of absorbing it and passing the test on the first try.
CT Adjuster License Requirements
18 years of age or older

Be of good moral character

Pass the CT state exam administered by Prometric Testing Centers

Complete the Connecticut Insurance Adjuster License application and submit with $65 application fee

Residents must complete 24 CE credit hours before their license expires, including at least 6 hours in each major line held, and at least 3 hours in Laws/Reg/Ethics. Non-residents do not need Connecticut CE credits. They need only to be compliant in their home state.

Become A Connecticut Insurance Agent With Our Recommended Connecticut Adjuster License
Pre-Licensing Courses And Exam Prep Materials
AB Training Center provides approved CT Adjuster training and materials needed to obtain your Connecticut Insurance Adjuster License. We have everything you need to prepare yourself for the Connecticut Claims Adjuster exam. Simply select from the recommended courses below, or search under "Licensing" in the search box thereafter for "Insurance-Adjusters".
Good luck passing your Connecticut Claims Adjuster licensing exam!
Contact Info: Connecticut Claims Adjuster License Requirements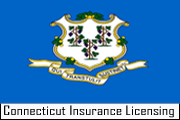 Connecticut Department of Insurance - Licensing DivisionAddress:
P.O. Box 816 | Hartford, CT 06142-0816
Phone:
860.297.3845
Website:
http://www.ct.gov/cid
Examination Scheduling
CT examination scheduling is administered by
Prometric Testing Centers
Other Insurance Licensing Courses For Connecticut:
Disclaimer
This information is based on state laws and regulations, and is subject to change. ABTrainingCenter makes every effort to make sure this information is current and accurate, however, ABTrainingCenter is not engaged in rendering legal or professional advice and shall not be held responsible for inaccuracies contained herein.