Connecticut Securities Licensing

At AB Training Center, we offer a huge selection of classes for those seeking a series 7 license in Connecticut.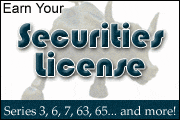 We have a variety of courses offered as self-study, seminars, or online training available. Everyone has their own busy schedule and there's no better way to start or catch up on your education for your licensure than with the convenience we have to offer. There's no better time than today to check out our courses and enroll for success.

Connecticut has a very unique economy. With tourism alone, more than $14 billion is generated for the state every year. Agriculture is next in line as a huge contributor, followed by industries in military weaponry and transportation (aircrafts, helicopters, submarines, and more). With such a diverse economy, securities training has begun to see a higher demand in the past few year.

We have a large selection of courses available in Hartford, New Britain, New Haven, Norwalk, Stamford, and their surrounding areas. Please contact us today to take full advantage of our courses.

Find Connecticut FINRA Training Courses

To find Series 7, Series 6, or Series 63 exam training in Connecticut, either click a Recommended Course below or use the search box. Good luck on your exam!