Criticism & Discipline Skills for Managers and Supervisors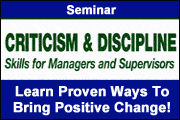 Seminar: ID# 1003633
Pricing: $149.00
About This Course:
All managers have to deal with difficult employees at some point. This seminar is an ideal way for you and your colleagues to get important training in performance management all at once. After this seminar, you and the rest of your management team will speak the same language. You'll support each other in creating action plans, managing difficult employees and applying progressive discipline.
What You'll Learn:


Approach an employee about the problem behavior ... in a way that minimizes accusations, hostility and defensiveness


Create an improvement plan ... and get your employee to commit to it


Coach the employee ... so there's no chance of misunderstanding


Document the process ... to encourage steady progress


Discipline, reassign or dismiss the person if the problem doesn't improve ... and handle it all fairly


Continuing Education Credits:

Click the 'Credits' tab above for information on PHR/SPHR, PDCs, and other CE credits offered by taking this course.
Share This:
Need training or resources in other areas? Try our other Training Center sites: