Earn Your Certified Senior Advisor Designation!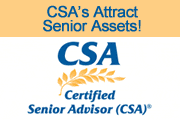 Seeking to earn the CSA designation? Then you've come to the right place!
The Certified Senior Advisor (CSA) designation is the leading professional credential for persons seeking to work more effectively with their senior clients.
The CSA designation signifies that designees have acquired broad-based knowledge of the health, social and financial issues that are important to the majority of seniors, and recognize how the dynamics of these factors work in seniors' lives.
Professionals from many walks of life have added the CSA designation to their credentials. They've learned how incredibly gratifying it is to help seniors achieve their goals, and the seniors they've helped have learned how important it is to work with someone who truly understands their age-related circumstances. The result is successful professionals, and satisfied seniors.
Course Structure
Highly-engaging, educational and interesting, the CSA certification course covers a wide range of topics on aging. The course is offered in two versions:
Independent Self-study with Exam
A three-day Classroom Review of the CSA course material, followed by the Exam on the fourth day
The 3-day CSA certification review class provides candidates the opportunity to review the course material they studied independently prior to attending class, in final preparation for the CSA exam. (Individuals whose current education/experience qualifies them may take the CSA Exam only. Individuals who are not seeking the designation may take the CSA Course only.)

Recommended Courses And Available Training Options

ABTrainingCenter.com offers multiple courses and training formats for earning the CSA designation. For instance, we offer the Classroom, Self-study and Fast Start formats for your training, so you can select the format that best fits how you learn.

Simply select one of the recommended courses below or search under "Licensing/Designations" in the search box thereafter for "CSA - Certified Senior Advisor".