Delaware Insurance Adjuster License
Best-Selling Training Courses:
Online Training Courses
Instructor-Led: Webinars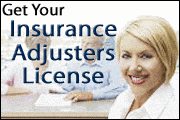 Get Your Delaware Insurance Adjuster License!
Getting an insurance adjuster license in Delaware can be an exciting proposition. Delaware insurance adjuster jobs pay well and have great rewards. If you think becoming an insurance claims adjuster in Delaware is right for you, we can help! Here are the requirements for getting an insurance adjuster license in Delaware and how to meet them.
What Is An Insurance Claims Adjuster?
Before you become an insurance claims adjuster in Delaware, it is important to have a good understanding of what this job entails. When someone files a claim against their insurance company, they cannot just cut a check and send it out. They would quickly go broke operating this way. They must send someone to establish if the claim is legitimate and how much the insurance company is liable to pay via the policy. That someone could be you! As an insurance claims adjuster, you will evaluate claims and make sure the settlement the claimant receives is fair.
Additionally, in the state of Delaware, if you want to work auto claims you will need an additional Auto Appraiser license.
How Do I Become A Delaware Insurance Claims Adjuster?
If the idea of becoming a Delaware insurance claims adjuster appeals to you, you may be wondering what kind of claims adjuster training Delaware requires. Anyone who is 18 years or older can obtain an insurance claims adjuster license and become a claims adjuster in Delaware as long as they pass the Delaware insurance adjuster exam. The same holds true for anyone getting their Auto Appraiser license.
How Do I Earn My Insurance Adjuster License In Delaware?
Once you a ready to take the exam, contact the Pearson VUE Testing Centers to schedule your examination appointment. If you score 70% or higher on the test, you pass and can apply for your license by sending in a $100 fee and an adjuster license application.
You can expect the exam to be very challenging, and hours of study are required. Many people prepare for the exam by taking Delaware adjuster license courses. ABTrainingCenter is well-known for the quality of our insurance training courses. We offer online courses delivered by trained instructors that cover all the material you are likely to encounter on a specific insurance licensing exam.
In addition to searching our course catalog for the classes that will best help you as you pursue your insurance adjuster license, you will also be interested in our live online webinar for Xactimate software training. All the most successful insurance adjusters are using Xactimate software to streamline their claims adjusting process, so you will want to make sure you are as familiar with it as possible.
Delaware Adjuster License Requirements
18 years of age or older

Pass the DE state exam administered by Pearson VUE Testing Centers

Complete the Delaware Insurance Adjuster License application and submit with $100 application fee

Continuing education is required for DE resident licensees only. Resident adjusters are required to complete 12 hours of continuing education (CE) every two years. The 12 hours must include at least 3 hours of Ethics.
Non-Resident Delaware Insurance Adjuster License
Non-resident applicants for a DE Adjuster License must submit an application. Please visit the
National Insurance Producer Registry
for more information on Delaware non-resident licensing.
NOTE: Delaware grants reciprocal licenses to adjusters who are licensed in their home state or who hold a Designated Home State (DHS) license, as long as the home or DHS state grants reciprocal licenses to Delaware adjusters.
Recommended Delaware Adjuster Training Courses And Exam Prep Materials
AB Training Center provides approved DE Adjuster training and materials needed to obtain your Delaware Insurance Adjuster License as well as your Auto Appraiser license. We have everything you need to prepare yourself for the Delaware Claims Adjuster or Appraiser exam. Simply select from the recommended courses below, or search under "Licensing" in the search box thereafter for "Insurance-Adjusters". Good luck passing your Delaware Claims Adjuster insurance licensing exam!
Best-Selling Training Courses:
Online Training Courses
Instructor-Led: Webinars
Contact Info For Your Delaware Claims Adjuster Licensing Exam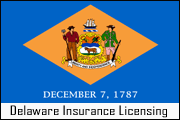 Delaware Department of Insurance - Licensing DivisionAddress:
Rodney Building | 841 Silver Lake Boulevard | Dover, DE 19904
Phone:
302.674.7390
Fax:
302.739.5280
Website:
https://insurance.delaware.gov/wp-content/uploads/sites/15/2017/12/Lic_Proc.pdf
Examination Scheduling
DE examination scheduling is administered by:
Provider:
Pearson VUE
Phone:
1.800.274.0455
Website:
http://www.pearsonvue.com/de/insurance/
Other Insurance Licensing Courses For Delaware:
Good luck passing your Delaware Claims Adjuster insurance licensing exam!
Disclaimer
This information is based on state laws and regulations, and is subject to change. ABTrainingCenter makes every effort to make sure this information is current and accurate, however, ABTrainingCenter is not engaged in rendering legal or professional advice and shall not be held responsible for inaccuracies contained herein.