Searching for Estate Planning training or Estate Planning courses to help you offer your clients better advice on Estate Planning basics? Then you've come to the right place!

ABTrainingCenter.com offers estate planning tools such as training courses and certification programs to help Financial Advisors and Insurance Professionals become more proficient with Estate Planning basics or advanced estate planning.


Estate Planning Training Basics

Estate Planning is the process of planning for the orderly administration of one?s affairs upon incapacity or death as it pertains to decision-making (Powers of Attorney), guardianship of minors, asset disposition, and tax mitigation.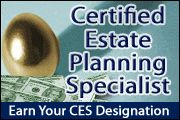 While most individuals believe that estate planning is only for the older or more wealthy, every adult needs estate planning to some extent.

Estate Planning can be very simple in nature, or may range to the very complex, thus the need for proper training and - in some cases - a certification or designation, not only to help with your understanding of Estate Planning, but for positioning yourself as an Estate Planning expert!

Thus, Financial Advisors and Insurance Professionals should pursue an estate planning certification, or at least understand the Estate Planning basics, to advise their clients competently.

Get the Estate Planning training you need to help your clients protect themselves from the unwanted circumstances of not having addressed their Estate Planning basic needs.


Recommended Estate Planning Training Options

To find Estate Planning training and certification courses, simply click on any of the recommended selections below, or search under "Professional Development" in the search box thereafter for "Estate Planning".