Financial Advisor Training Courses
Become A Financial Advisor With Our Financial Advisor Training Courses
What Do Financial Advisors Do?
Financial Advisors assist clients in the planning of their financial affairs, such as investing, retirement planning, college savings, wills, estate planning, and taxes. This could include advice regarding life insurance or other types of insurance such as long term care or income protection.
A career in financial advising - for which specialized financial advisor training is required - includes stockbrokers, insurance sales representatives, accountants, and many others.
Each of these Financial Advisor careers need training or licensing - and the Agent Broker Training Center offers several financial advisor training and licensing course options, including live classroom, online, and self-study financial advisor training courses.
How To Become A Financial Advisor
To become a Financial Advisor, you must first obtain the necessary professional license(s). License requirements will vary depending on what type of assets you will be handling.
For example, if you want to sell securities, you must obtain a
Series 7 license
. If you wish to sell mutual funds and variable annuities, you would need to get a
Series 6 license
. There are also specific license types for selling options, futures, and being an investment banker.
To see available Financial Advisor licensing types,
click here
. To see a list of insurance-related Financial Advisor licensing,
click here
.
Grow Your Revenues With Ancillary Business Offerings Typically Offered By Financial Advisors
Sell Insurance, Long-Term Care, Or Annuities
Would you like to expand your career in Financial Advising? Many advisors provide more than one service to their clients. Many offer insurance, such as Life & Health or Property & Casualty, while others provide counsel in areas such as annuities and mutual funds. Suggestions - and links for training - are listed below: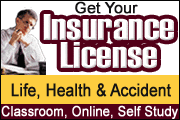 Life and Health Insurance
Insurance Licensing is regulated at the state level and, as such, each state government establishes its own insurance licensing requirements and examination procedures. Click here to see your state's requirements.


Property And Casualty Insurance
A license is a requirement for selling property and casualty insurance in the United States. The license is obtained by upon successful completion of an entry-level exam that tests the applicant's knowledge of general insurance concepts, insurance provisions and policies, and contract law. Click here to find P and C insurance exam prep and pre-licensing courses.
Earn A Certification
Enhance your Financial Advisor career by earning a certification or designation such as:
CFP, Certified Financial Planner
The Certified Financial Planner designation is awarded by Certified Financial Planner Board of Standards Inc. (CFP Board) to individuals who meet education, examination, experience and ethics requirements. It generally is regarded as the industry standard for the financial planning profession.


FRM, Financial Risk Manager
Financial risk management uses financial instruments to manage exposure to risk, particularly credit risk and market risk. As a specialization of risk management, financial risk management focuses on when and how to hedge using financial instruments to manage costly exposures to risk.


QFA, Qualified Financial Advisor
The QFA designation is ideal for those professionals who may wish to attain the coveted CFP designation, but may lack the bachelor degree, experience requirements, or the time/money to devote to becoming a CFP certificant.
Find Seminars, Webinars, And Online Training In Your Area

Note: The Financial Industry Regulatory Authority (FINRA) regulates all securities and can advise potential licensees on which license(s) suit your individual needs. Additionally, you must be sponsored by a member of FINRA (Broker/Dealer) or a Self-Regulatory Organization (SRO) before you will be allowed to sit for your licensing exams.

Use the search box above to find finance designations and certifications, as well as a variety of financial advisor training courses.