Florida Securities Licensing

As one of the most popular vacation destinations in the world, Florida has a soaring economy and a high demand for securities training. At AB Training Center, we have a huge variety of courses for those in need of a Series 6, Series 7, or Series 63 license.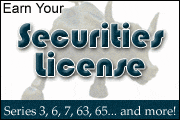 We offer several different formats, so you're free to choose the kind that will work best for your learining experience. If you prefer to work on your own, a self-study course would be great for you. Or if you enjoy live presentations where you can ask questions on the spot and get immediate answers, you would excel in our seminars. All of our courses are designed to give you the education and confidence you need in order to pass the exams for licensure and have you on the fast track to career success.

Florida's economy is made up of almost every sector. The largest and most successful are industry, real estate, international banking, construction, and aerospace. With so many large companies in the state, securities training has begun to grow in popularity and necessity.

For those seeking a licensure or designation in a Series 7, or any other series, we have the courses you need at AB Training Center. We currently offer courses in Fort Lauderdale, Jacksonville, Miami, Orlando, Tallahassee, Tampa, and surrounding areas. Call us today to find out just how easy it is start your securities training courses.

Find Florida Series 7 License Exam Training

To find Series 7, Series 6, or Series 63 exam training in Florida, either click a Recommended Course below or use the search box. Good luck on your exam!