Hawaii Securities Licensing

AB Training Center has several courses available in securities training for those needing to obtain their Series 6, 7, and 63 licenses in Hawaii.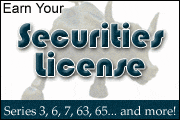 We offer courses in a variety of formats including self-study, online training, and seminars. All of our courses have been designed to help you prepare for the exams developed by the North American Securities Administrators Association (NASAA). Each one of our courses comes with a huge array of materials that can be suited to your individual needs and can equip you with the confidence and education to pass these exams in no time.

With tourism growing at an extremely high rate in the past few years, Hawaii's economy has also started to soar a little higher as well. With military, education, agriculture, and real estate playing huge roles in the state's economy, the demand for securities training has also started to rise.

We offer courses in Honolulu, Pearl City, Hilo, Kailua, Kahului, and all of the islands. All of our classes are designed for those to prepare at their own pace and will have you on the path to an even more successful career in no time. Please contact us to find out all about our amazing courses today.

Find Hawaii Securities Training Classes & Seminars

To find Series 7, Series 6, or Series 63 exam training in Hawaii, either click a Recommended Course below or use the search box. Good luck on your exam!