Idaho Securities Licensing

At AB Training Center, we offer a huge selection of classes for those seeking a series 6, 7, or 63 license or designation in Idaho.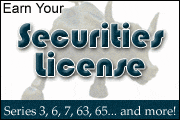 We have a variety of courses offered in formats such as self-study, seminars, online training, and even OnDemand available. If you can't make it to a class, the recorded classes are a great way to catch up on what you've missed and never fall behind in your lessons.Everyone has their own busy schedule and there's no better way to start or catch up on your education for your licensure than with the convenience we have to offer. No matter which license you're in need of obtaining, we have the courses for you here.

Idaho's economy is largely made up of the agriculture industry, but it also has huge contributors in machinery, electronic manufacturing, chemical products, food processing, and more. With so many different sectors in the state's economy, securities training has also seen a higher demand.

We offer a large variety of courses in Boise, Idaho Falls, Lewiston, Meridian, Nampa, and more. Even if you're not a resident of the state, training is still available for those in need of a license in Idaho. Please give us a call today to learn about all our amazing courses.

Find Idaho Securities License Exam Training

To find Series 7, Series 6, or Series 63 exam training in Idaho, either click a Recommended Course below or use the search box. Good luck on your exam!